Parmesan Cauliflower Fritters
These crispy golden fritters are a delicious way to serve cauliflower as a side dish.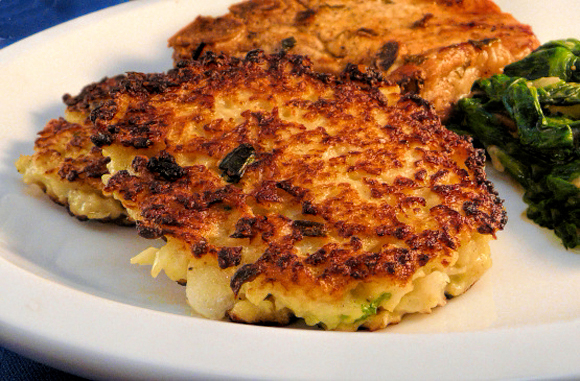 Ingredients
3 cups of cauliflower
1 tsp salt
½ tsp black pepper
2 garlic cloves, minced
½ cup of chopped onions
¼ cup fresh chopped parsley
½ cup of wheat flour
⅓ cup of grated parmesan
1 egg
Additional wheat flour for coating
1 tablespoon Oil
Directions
Microwave cauliflower for 10 minutes or until tender.
Mash cauliflower, mix in salt, pepper, garlic, onions, parsley, flour, grated parmesan and egg.
Form patties with the mashed cauliflower mix.
Coat both sides of patties with wheat flour.
Add oil to non-stick pan heat until shimmering and place about a ¼ cup of cauliflower mixture into pan flatten and fry until golden brown and crispy on both sides.
Enjoy with sour cream and chives.
Nutrition Information
Serving size:
1 pattie 82 g
Calories:
68
Fat:
.9 g
Carbohydrates:
12.3 g
Sugar:
1.7 g
Sodium:
415 mg
Fiber:
1.9 g
Protein:
3.3 g
Cholesterol:
27 g