Pan-Roasted Chicken with Lemon-Garlic Green Beans
(Cuisinart Convection steam oven directions included.) Gluten free. Low Carb, Diabetic Friendly and so simple to make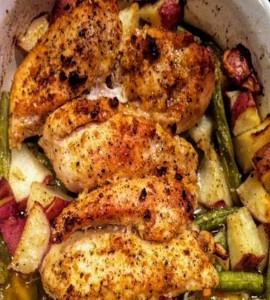 Source:
This recipe is all over the internet could not fine original source so using: joyfulabode.com version
Ingredients
¼ -½ cup olive oil
Juice of 2-3 lemons
Several cloves of garlic, cut in half (I buy the pre-peeled cloves – they're so easy! And I put in probably 10-15 because I LOVE to eat them once they roast and get all soft)
Salt or seasoned salt & pepper to taste
A bunch of green beans (¾ pounds, ends trimmed)
8-12 red baby potatoes, cut into halves)
Chicken 8 thighs or 4 breasts, bone-in, skin-on. (About 3 ¼ lbs)
Directions
Preheat the oven to 450 degrees Fahrenheit.
In a medium mixing bowl, whisk together oil, lemon juice, salt, pepper, and garlic cloves.
Add the green beans and potatoes to the oil mixture and toss to coat. Using tongs (salad tongs work great), transfer the veggies to a baking dish (9×13 is good). Potatoes to the outside and green beans on the inside
Using the tongs, swirl each piece of chicken around in the oil mixture before placing on top of the green beans in the baking dish.
If any oil remains, drizzle it on top of the chicken.
Roast for 50 minutes or an internal temp of 180 is reached for the chicken.
Notes
For Cuisinart Convection Steam oven directions
Place the pieces skin up on top of the green beans and the potatoes to the outside on the boiling/steaming rack fit into the baking pan. Put in the oven with the rack in the lower broil position. Set to bake steam at 450° F for 35 minutes or an reach an internal temperature of 180° F

Using actual lemon slices can make this dish bitter the lemon juice solves this problem.