Paleo Roasted Chicken Thighs with Apple & Cinnamon
A Great Flavor Combination just the right amount of salty and Sweet the chicken is moist and Delicious.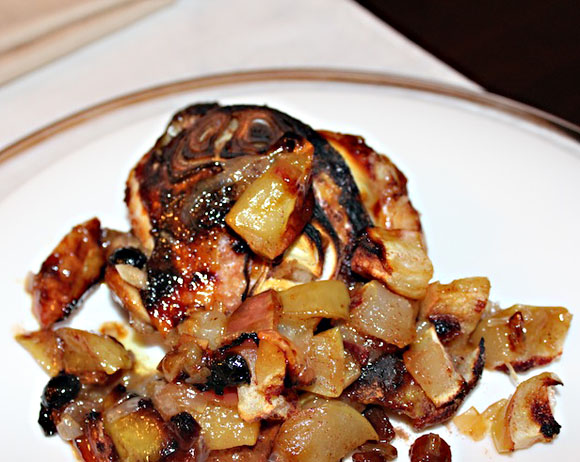 Prep time:
Cook time:
Total time:
Ingredients
4 Chicken thighs with skin
½ cup Raisins
1 cup Shallots chopped (plus 4 wide pieces to place on top of chicken )about 4 large shallots will give you a cup
2 Apple peeled, cored and sliced
1 tsp. Cinnamon
3 Tbsp. Honey
4 Tbsp. Maple syrup
2 Tbsp. Coconut oil (
1 tsp. minced garlic
Salt & pepper to taste
Directions
Preheat your oven to 450 F.
Put the Coconut oil on the bottom of the pan. Lay out the chopped shallots over the oil.
Sprinkle 2 tbsp. of maple syrup over the shallots, saving the other 2 tbsp. for on top of chicken thighs.
Add the chicken thighs and top the thighs with the wide shallot slices.
Place the apple slices around the chicken thighs.
Sprinkle the garlic on top.
Add the raisins, and sprinkle the cinnamon on top.
Spread the maple syrup and honey over the entire roast.
Roast for 30-35 minutes.