Orange-Ginger-Chile-Glazed Carrots
Roasting whole carrots in a hot oven and then giving them a final toss in a sweet glaze yields an unforgettable side dish.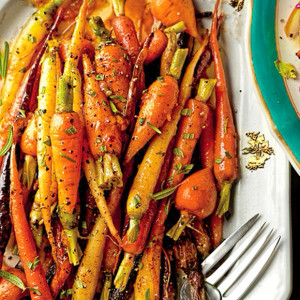 Ingredients
26 small-to-medium carrots with tops (about 1 ¾ lb.)
2 tablespoons olive oil
1 teaspoon kosher salt
1 teaspoon ground cumin
½ cup orange marmalade
½ cup fresh orange juice
1 teaspoon ground ginger
¼ teaspoon dried crushed red pepper
1 teaspoon minced fresh rosemary leaves (optional)
Freshly ground black pepper
Directions
Preheat oven to 475°. Cut tops from carrots, leaving of greenery on each. Use a vegetable peeler to peel the outer layer of tops. Peel carrots, if desired. Toss together carrots and oil in a large bowl. Sprinkle with salt and cumin. Spread carrots in a single layer in an aluminum foil-lined jelly roll pan; bake 25 minutes or just until carrots are tender and browned.
Meanwhile, bring marmalade and next 3 ingredients to a boil in a small saucepan over medium heat. Boil, often stirring, 4 to 6 minutes or until thickened. Stir in rosemary, if desired.
Transfer carrots to a large serving bowl; add marmalade mixture, and toss to coat. Season to taste with pepper. Serve hot or at room temperature
Notes
: Look for multicolored carrots for a stunning presentation. If you can't find them at the supermarket, try a local farmers' market. We use a little chile pepper to add just a whiff of heat. Feel free to increase the pepper or omit it, if you prefer. Also, you can sub chopped fresh thyme or mild flat-leaf parsley for the rosemary.