Omelet Muffins
These minis munchies are A perfect option to start your day with energy, The muffins are delicious, full of protein, and they taste just as normal sized omelets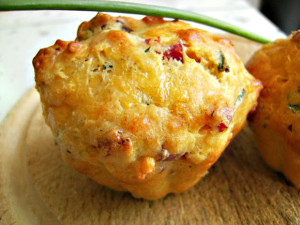 Ingredients
4 Eggs
¼ Cup of Milk
½ teaspoon of Baking Powder
½ teaspoon of Oil
Salt & Pepper to taste
Grated Cheddar Cheese
Favorite Omelet fillings (Your choice, I used onions, bell peppers and bacon)
Directions
Preheat oven to 375 degrees.
In a frying pan, cook up your favorite omelet ingredients. I chose onions, bell peppers, and diced ham.
Grease a 6 spot muffin tin.
Fill each muffin cup with cooked omelet ingredients.
Top with shredded cheese.
Mix egg, milk, baking powder, oil, and salt & pepper to taste in a bowl.
Pour egg mixture in each muffin cup. You should fill each about ⅘ of the way to the top.
Put in oven and bake for 20-25 minutes.
Take out of oven and let rest for 5 minutes before serving or storing.
Notes
Whip up double batches of the above recipe using a 12 spot muffin tin. put them in a large plastic Ziploc bag, store them in the fridge, and enjoy throughout the week. These taste just as delicious the next day. They are good both cold or heated up in the microwave. To make them last even longer, you could also store them in the freezer and reheat them in the microwave for a minute or 2 when you want to enjoy them.
Use silicone muffin tins or silicone individual cupcake baking cups you will not need to oil to coat. For even lighter rising of the muffins substitute almond/or coconut milk for the milk. This recipe will need 8 medium silicon baking cups
 And here is a video on  how to make these delicious Omelet Muffins