Maple-Brined Chicken with Roasted Vegetables
Brining or soaking the chicken in a maple syrup brine enhances the moistness and flavor and improves the browning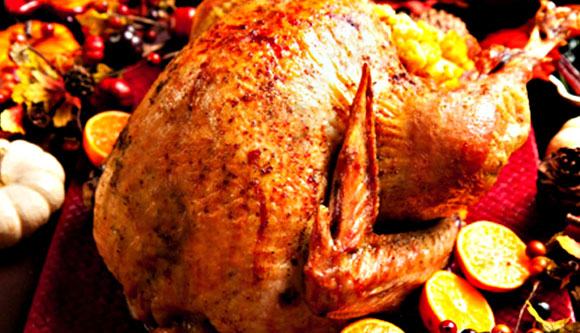 Ingredients
1 cup kosher salt
½ cup packed brown sugar
4 cups apple juice or apple cider
4 cups water
1 cup maple syrup
2 tablespoons stone-ground Dijon-style mustard
1 5-6 lb roasting chicken
6 large carrots, cut into 2 – inch chunks
2 large onions cut into ½ inch slices
2 fennel bulbs, trimmed and cut into wedges
6 sprigs fresh thyme
4 cloves garlic, halved
3 tablespoons olive oil
Salt
Ground black pepper
1 medium orange, halved
Directions
For Brine: in an extra-large stainless-steel stockpot combine 1 cup kosher salt and brown sugar; stir in apple juice, the water, Maple syrup, and mustard. Cook and stir over medium-high heat until salt and sugar are completely dissolved. Remove from heat; cool to room temperature.
Remove giblets from chicken, if present; discard or reserve for another use. Rinse chicken inside and out with cool water. Place chicken in stockpot, making sure it is immersed in the brine. Cover and chill for 12 hours.
In a resealable plastic bag combine carrots, onions, fennel, 2 or the thyme sprigs, and the garlic; drizzle oil over vegetables. Seal bag; massage vegetables to evenly coat with oil. Chill for up to 12 hours.
Preheat oven to 400° F. Remove chicken from brine; discard brine. Pat chicken dry inside and out with paper towels. Sprinkle chicken cavity with salt and pepper. Place orange halves and the remaining 4 thyme sprigs in cavity. Skewer neck skin to back. Tie drumsticks to tail. Twist wing tips under back. Spread vegetables evenly in an ungreased 13x9x2 inch baking pan. Place chicken breast side up, on top of vegetables.
Roast, uncovered, for 1 ¾ to 2 ¼ hours or until an instant-read thermometer inserted in the center of an inside thigh muscle registers 180° F. Remove chicken and vegetables from oven. Tent chicken loosely with foil; let stand for 15 minutes before carving. Serve chicken with roasted vegetables.
Notes
Check out
"how to brine"
post for the reasons you would want to take the time to brine.