Make Your Own Kecap Manis (Indonesian Sweet Soy Sauce)
Not everyone has a bottle of kecap manis in their kitchens and may not feel like getting a whole bottle for an one-off recipe; or you simply want the satisfaction of making sauces at home. This recipe can be used in the
Sticky Chicken recipe found here.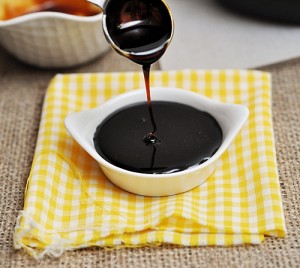 Ingredients
¼ cup soy sauce
¼ cup + ⅛ cup (i.e one half of a quarter cup) brown sugar
Directions
In small pot, add brown sugar and soy sauce.
Boil the sauce over low to medium flame until thickens resembling maple syrup. If the mixture starts to boil vigorously and looks like it is going to over boil, leave the pot away from the flame until the boiling has calm down and continue to boil over low heat. You have to keep a watchful eye while the mixture is cooking to avoid over boiling. As the mixture cools down, it will further thicken.
Notes
Indonesian sweet soy sauce aka kecap manis is one of my most used sauces besides soy sauce and oyster sauce. These 3 sauces are a staple in my everyday Asian dishes. Stir fry, noodles, fried rice (soy sauce (or light soy sauce) is salty and with a consistency of water; whereas kecap manis is sweeter (manis means sweet in Malay/Indonesian) and has the consistency resembling maple syrup. I use light soy sauce in replacement of salt and kecap manis for color and the sweetness, of course