Lighter Irish Colcannon (Potatoes, Cauliflower, Kale Mash)
A delicious lighter version (By replacing some of the Potatoes with Cauliflower) of the Irish National Dish, Colcannon. Perfect as an easy side accompaniment for any savoury dish. A very comforting & filling dish.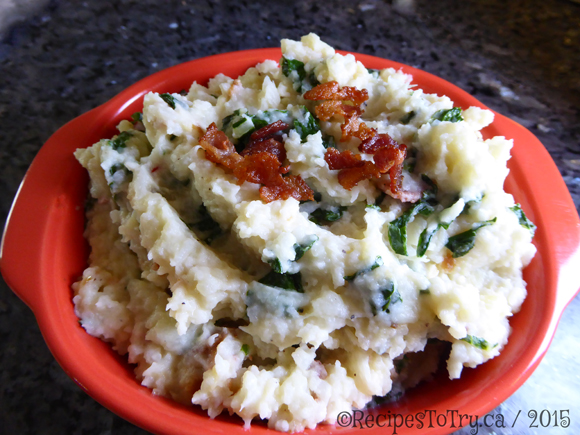 Ingredients
4 medium yellow potatoes, washed and cubed
One large parsnip peeled and chopped
1 tablespoon salt
1 medium head of cauliflower
1 Tablespoon of butter
2 cups of kale or spinach chopped
6 slices of bacon
½ cup onion chopped fine
1-3 cloves of garlic minced
1 dried chili pepper crushed
3 tablespoons light cream cheese
½ teaspoon freshly ground black pepper
½ teaspoon salt
½ teaspoon chopped fresh or dry chives, for garnish
Directions
In a 2 qt saucepan, add potatoes & parsnips and 1 tablespoon salt. Cover with water and boil 10 minutes.
Add cauliflower and simmer ten more minutes or until potatoes are cooked.
Drain completely. Put back in pot stir a bit to remove excess moisture. Mash the mixture.
Add the cream cheese and butter mash more to mix. Add salt, pepper, chili pepper, bacon bits, and onions, garlic Kale mixture. Mix
While potatoes are cooking place bacon in a frying pan and cook until crisp. Remove from pan, crumble and set aside. Leave the bacon fat in the frying pan add onions and sauté until soft 3 minutes. Add garlic and cook another 30 seconds Then add chopped kale or spinach and sauté until Kale/Spinach is wilted.
Garnish with chives or bacon pieces.
Notes
Great with a lighter version of
Salisbury steak with mushroom gravy
What is Colcannon
--"Colcannon. Originally an Irish dish of boiled potatoes and cabbage or kale mashed together and flavoured with onion, shallots, or leeks and cream or butter. The word 'colcannon' is from the Gaelic cal ceannann which means white-headed cabbage. However, the cannon' part of the name might be a derivative of the old Irish , translated variously as garlic, onion, or leek. The dish was introduced into England in the 18th century, where it became a favorite of the upper classes. In Ireland, colcannon was associated traditionally with Hallowe'en (31 October) festivities when it was used for marriage divination. Charms hidden in bowls of colcannon were portents of a marriage proposal should unmarried girls be lucky enough to find them while others filled their socks with spoonful's of colcannon and hung them from the handle of the front door in the belief that the first man through the door would become their future husband.