Lettuce, Chicken, and Cherry Salad with Horseradish Dressing
This completely cravable summer dinner salad hits all the right spots of creamy, crunchy, sweet, and spicy.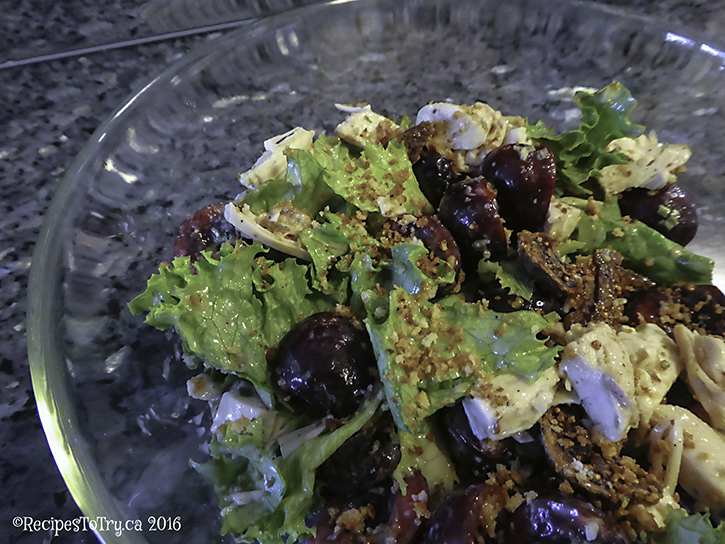 Recipe type:
main dish, salad
Ingredients
For the dressing:
¼ cup mayonnaise
1 tablespoons lime juice
1 tablespoons prepared horseradish
1 tablespoon honey
⅛ teaspoon kosher salt
⅛ teaspoon freshly ground black pepper
For the salad:
1 tablespoon extra virgin olive oil
¼ cup panko (Japanese breadcrumbs)
¼ teaspoon kosher salt
Pinch of cayenne pepper
1 cups shredded cooked chicken
4 cups green lettuce leaves
1 cups cherries (about ), pitted, halved
2 figs (sliced if fresh chopped if dried)
2 radishes, thinly sliced
2 tablespoons coarsely chopped fresh chives
Directions
Make the dressing:
Purée mayonnaise, lime juice, horseradish, honey, salt, and pepper in a blender until smooth. Set aside.
Make the salad:
Heat oil in a small skillet over medium-high. Add panko and cook, stirring frequently, until golden brown, 4–5 minutes. Season with salt and cayenne and transfer to paper towels; let cool.
Combine chicken, lettuce, cherries, radishes, figs, half of the panko, and half of the chives in a large bowl. Drizzle with dressing and gently toss to coat. Sprinkle with remaining breadcrumbs and chives.
Notes
The dressing can be made and chilled for up to 2 days.