Jalapeno Corn Muffins with Salted Beer Honey Butter
Tender and moist cornbread muffins dotted with fresh jalapenos and cheddar cheese. Even better when served with the Salted Beer Honey Butter. Delicious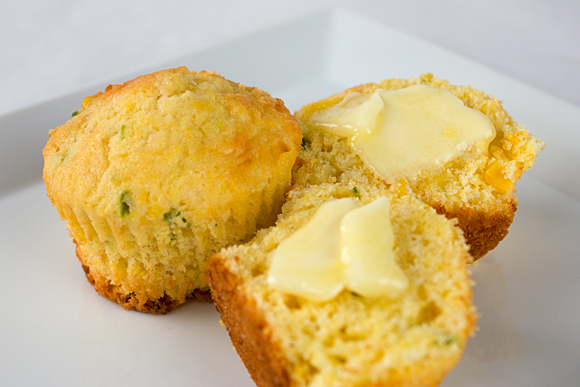 Source:
Best of Bridge Holiday classics
Ingredients
Muffins
½ cup all-purpose flour
2 tbsp. granulated sugar
1 tbsp. baking powder
½ tsp baking soda
½ tsp salt
1½ cups cornmeal
2 large eggs
1 cup fat-free sour cream
1 cup shredded sharp cheddar cheese
1 can (10oz/284 g) creamed corn
¼ cup jalapeno pepper, minced
½ cup unsalted butter or margarine, melted
Salted Beer Honey Butter
½ cup butter
2 tbsp. wheat beer
1 tbsp. honey
1 tsp Maldon salt or kosher salt
Directions
For the Muffins
Preheat oven to 450° Spray muffin pans with cooking spray or use paper liners set aside
In a large mixing bowl, combine the flour, baking powder, baking soda and salt and whisk together. Add the cornmeal, eggs, sour cream, cheese, creamed corn, jalapeno peppers and butter; mix well.
Fill muffin pans with mixture and bake for 15 to 20 minutes
For the Butter
In a stand mixer, beat the butter with a paddle attachment until light and fluffy. Slowly add the beer and honey, mix until well combined, stir in the salt.
Scrape the butter onto a sheet of plastic wrap, roll into a log, refrigerate until set, about 30 minutes. Serve the cornbread with butter.
Notes
What is Maldon salt. Manufactured in England by the Maldon Salt Company. These salt crystals are unusually large with a signature pyramid shape that also adds visual appeal. Hand-harvested with the distinctive flaky texture and taste that lends a certain piquancy to virtually any dish. The effect on the plate is a satisfying crunch that melts quickly away to let the enhanced natural flavors shine through.