Instant Pot Rotini Noodles with Bolognese sauce
Truly a one-pot meal. A delicious meat sauce over pasta. All ready in about 40 minutes. And no additional pots to clean.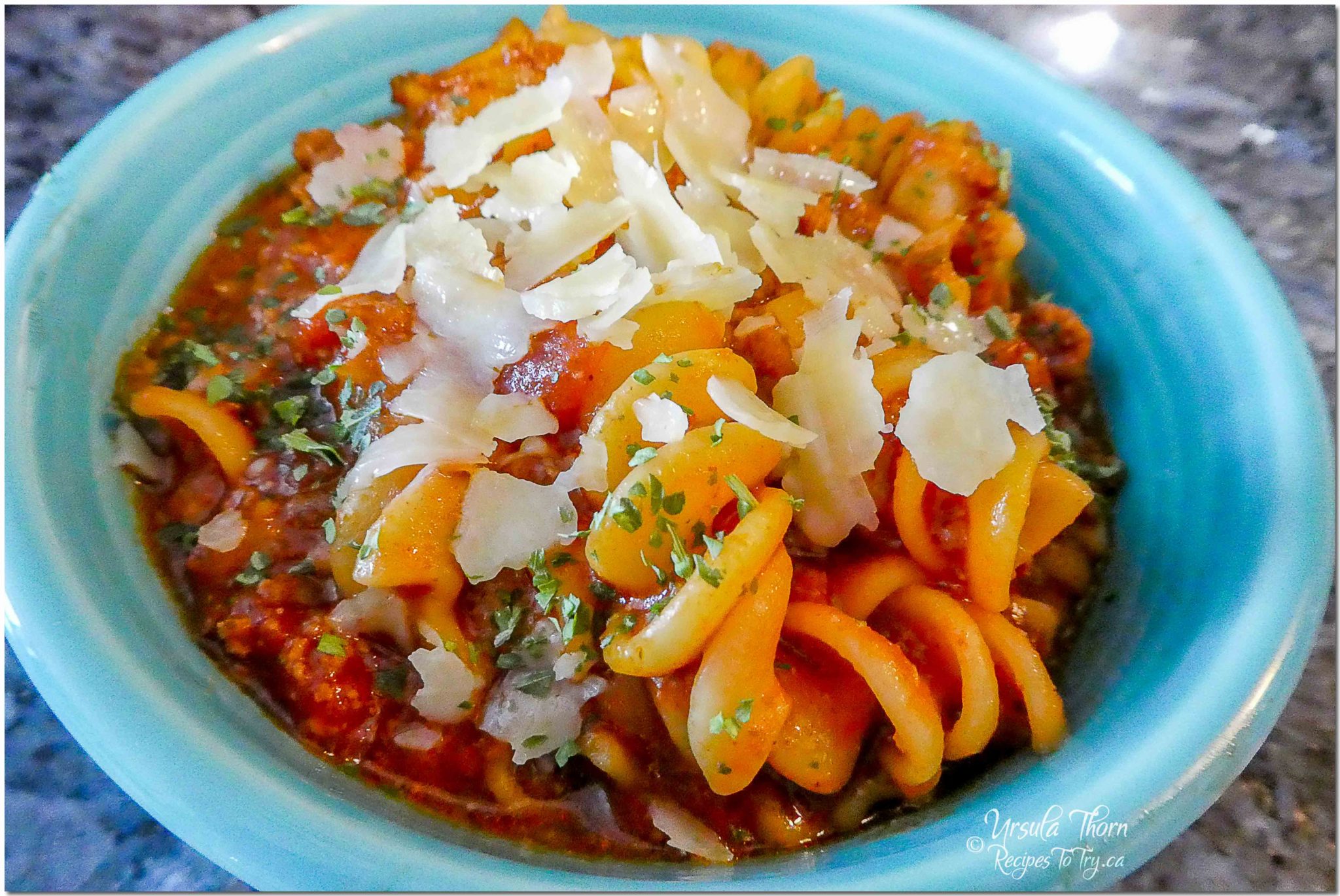 Ingredients
1 tbsp oil
1 lb ground beef
1 large onion, chopped
3 cloves garlic, finely chopped
½ sweet green pepper, chopped
2 8- ounce (2 213 ml) cans tomato sauce
1 18- ounce (1 540 ml) can diced tomatoes
1 can 13 oz (340 ml) crushed tomatoes
1 tbsp. tomato paste
1 tbsp Worcestershire sauce
2 tbsp Italian seasoning
3 tbsp soy sauce
2 tsp brown sugar
½ tsp crushed red pepper flakes
1 lb (6 cups) Rotini noodles or other noodles
¼ c red wine
1 cup chicken broth
1 cup beef broth
3 bay leaves1
salt and pepper to taste
Directions
Select Sauté or Browning on your Pressure Cooker and allow it to heat.
Add olive oil to the Pressure Cooker cooking pot and then dump in the beef and break into pieces as you brown. When meat is partially brown, add onions (and peppers, if using) and sauté until ground beef has browned. Add garlic and sauté one more minute.
Drain excess grease, if needed. Add the rest of the sauce ingredients. Stir to mix. ( stop here if you only have a 3 qt mini instant pot and see notes****) Add the noodles.
Set your Instant Pot to manual high pressure for 4 minutes.
When the timer is up; carefully do a quick release.
Take out bay leaves and give everything a good stir.
Top with freshly grated cheese
Notes
This recipe is very forgiving if you can not find the cans in the appropriate amount choose the closest in size.
I live in Canada, so the closest to a 15 oz can is 540 ml which is approx. 18 oz's the same goes for the diced tomatoes is a 340 ml can which is approximately 13 oz


Freezes well


****This recipe is for the 6-quart Instant Pot. If you only have a 3 qt instant Pot (mini) just follow the recipe as stated. When you get to the point you are adding the noodles stop remove ½ the sauce and save for another time. Add half of the noodles (3 cups) and continue with the recipe.


I freeze the extra sauce in a container that fits the instant pot with a Ziploc bag in the container. Place container and Ziploc bag in the freezer when the sauce is frozen remove the container and store the Ziploc bag for up to 3 months in the freezer. The idea is that the when you want to cook this recipe again just place the sauce in the instant pot add the 3 cups of noodles and set for pressure cooker 10 minutes. A lot less work then if you had to make the sauce again.