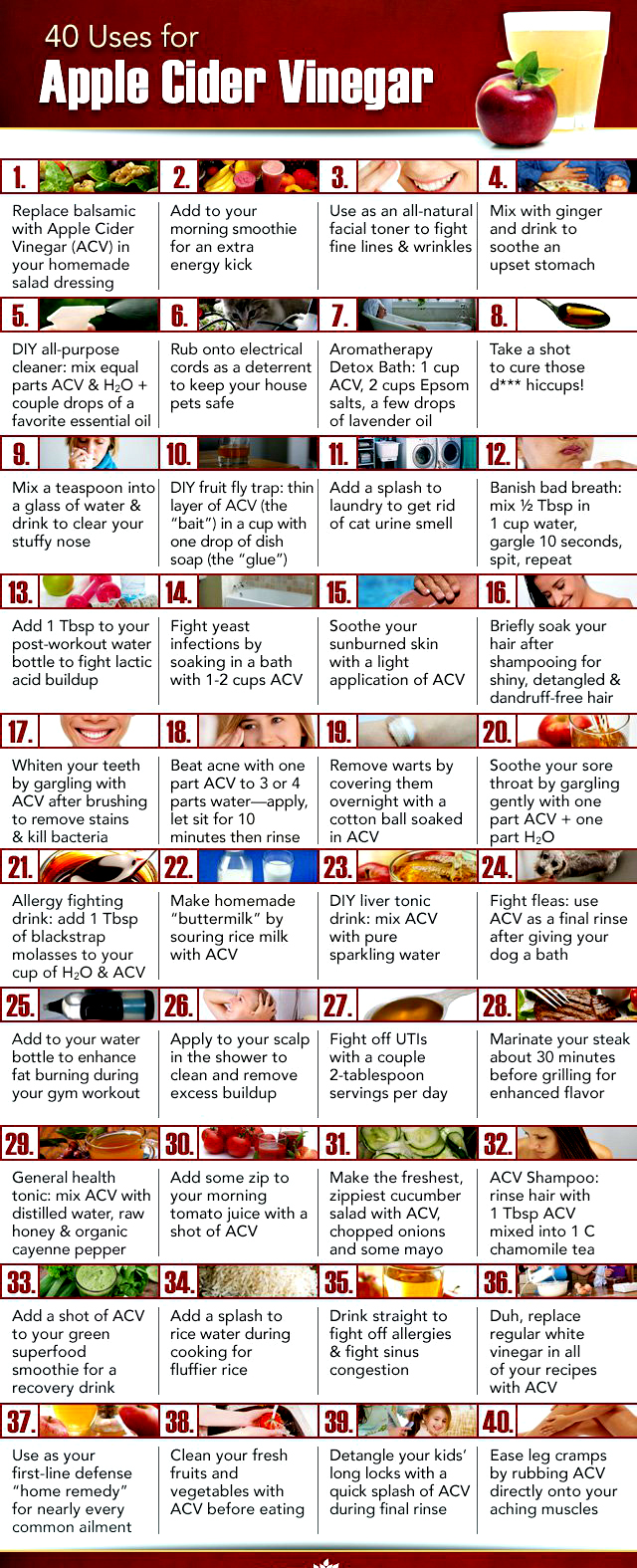 Apple cider vinegar is one of those miracle ingredients. You can clean the counters, soak your grains, make salad dressing, detox your body, keep heartburn at bay, and even remove moles. Add to this; that is great for cleaning vegetables and fruit.
The info chart on the left provides some information on apple cider and its uses.
The Rest of  this blog will only be referring to the Cleaning & Storing of Produce.
How much apple cider to add to water.
Dilute one tablespoon of Apple Cider Vinegar in one cup of water.
The rule of thumb is Produce with thicker skin can be washed ahead of time and then stored in the fridge. You can wash big batches directly in a sink or large bowl depending on how much you need to clean. Don't worry about measuring just add a few big splashes of Apple Cider and soak it for at least five minutes stirring every so often. Rinse and dry before putting in the Fridge.
Moisture causes molding, so drying before storing is essential.
Putting paper towels inside the container holding the product will absorb excess moisture and help to prevent rotting.
Produce with softer outer skin are best washed right before eating. Keep a spray bottle containing the water and Apple Cider by the sink for just this purpose. Let it sit for five minutes before rinsing.
Strawberries are one of the fruits that need to be cleaned right before you eat them. If you wash them and store them, you may end up with mushy strawberries. Same goes for other berries, mangoes, peaches, pears, eggplants, and tomatoes. Fruits and vegetables with softer outer layers are typically best washed right before use.
Fruits and veggies like apples, avocados, melons, celery, bell peppers, and radishes can be washed ahead of time and stored. Surprisingly, lettuce can also be washed ahead of time and stored. They sometimes stay fresher longer when cleaned early.
A couple other notes to ensure your produce stays fresh for a longer period of time.
Fruits and vegetables should not be stored in the refrigerator until they've ripened. Otherwise, they'll go rotten much more quickly.
Bananas will last longer if tops are wrapped in plastic food wrap
Certain kinds of fruits and vegetable begin to actively give off ethylene once they've ripened. These include bananas, apricots, melons, pears, plums, mangoes, and tomatoes.
Other kinds of fruits and vegetables are sensitive to ethylene, including apples, eggplants, watermelons, potatoes, pumpkins, carrots, and broccoli. If placed close to the first category, they begin to rot at a rapid rate. So it's best to store these two groups separated from each other.
Do not store potatoes and onions in the same place.

Where to Store
AIR-TIGHT CONTAINER OR PLASTIC BAG IN THE FRIDGE
bell peppers
broccoli
cabbage
carrots
cherries
cucumber
radish
spinach
VENTILATED CONTAINER OR PLASTIC BAG IN THE FRIDGE
berries
greens*
eggplant
lettuce*
mushrooms
snap peas
*Greens and lettuce can be washed ahead of time and stored in a plastic bag with a damp paper towel. This will actually keep them fresh a little longer!
VENTILATED ON THE COUNTER
avocado
bananas
mango
melon
tomatoes