Heavy Cream Substitute
Need heavy cream for a recipe? Use this cheap and easy stand-in, and you won't have to buy any: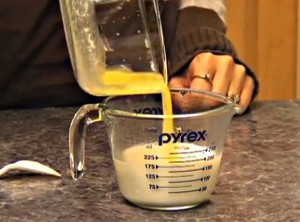 Prep time:
Cook time:
Total time:
Directions
Melt the butter.
Pour it into the milk, and stir.
Notes
Use in place of cup of heavy cream
This substitute will not whip.
If you use low-fat milk, you will want to add 1 tablespoon of flour to thicken the mixture. Stir until well mixed.
To avoid curdling... You NEVER just dump the hot and cold items together. You have to pour the butter in slowly while whisking or temper the butter and milk together a little at a time.
Watch a video for guidance: