Harissa one pan Roasted Chicken (Cuisinart Convection Steam Oven)
This Pan-Roasted Chicken with Harissa (which is a Mediterranean type spice) is quick and so easy to make. Did I mention it is also very very tasty. Instructions on how to bake in a standard oven are in the notes section of this recipe.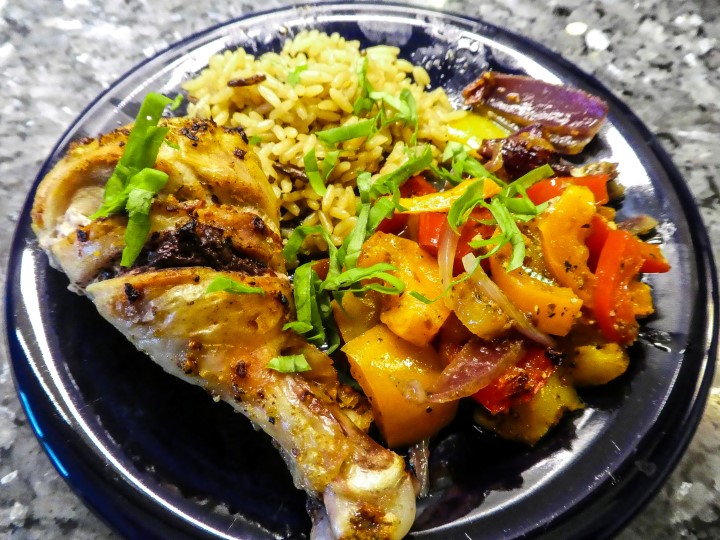 Prep time:
Cook time:
Total time:
Ingredients
1 small red onion quartered then quarters halved
1 Bell Pepper
Salt and pepper to taste
1 tablespoon oil
1 tablespoon Harissa paste ( if you only have the dry spice just mix with a little oil to make a paste)
½ teaspoon balsamic vinegar
2 large chicken thighs with bone and skin (the thigh slashed about 2 times to the bone)
Directions
In the Cuisinart, roasting pan place the bell pepper and onion. Sprinkle with oil add salt and pepper to taste.Mix. Add about ½ of the Harissa paste to the veggies and mix well. Sprinkle with the vinegar. Rub the rest of the Harissa Paste on the chicken thighs and place on pan.
Put on the middle rack of the Cuisinart Convection Steam oven; dial to bake steam; Temp: 450 F; and time: 25 minutes.
When done check to ensure chicken's internal temp is 165 F if not just bake another few minutes at same temp but use the convection bake setting.
Serve with rice or couscous
Notes
To Bake in a standard oven. Preheat the oven to 350 F and bake 50 to 60 minutes.