Greek Style Oven Roasted Lemon Butter Parmesan Potatoes
Crispy on the outside, fluffy on the inside with a delicious lemony flavour; absolutely delicious!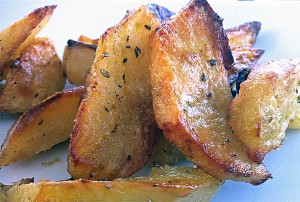 Ingredients
3 lbs Russet potatoes
1 cup chicken broth
2 tablespoons fresh lemon juice...
¼ cup butter, melted (no substitutes)
1 teaspoon oregano (or to taste)
1 tablespoon fresh minced garlic (optional or to taste)
salt and pepper
½-3/4 cup grated parmesan cheese (or to taste)
chopped fresh parsley
Directions
Set oven to 375 degrees.
Butter a shallow baking dish large enough to hold the potatoes.
Peel and cut the potatoes into large wedges and place into the prepared baking dish.
In a bowl combine the broth, lemon juice, butter, oregano, salt, pepper and minced garlic (if using); mix well to combine.
Pour over potatoes in the dish and stir to coat well.
Cover the dish tightly with foil.
Bake for about 40 minutes.
Uncover and turn potatoes.
Sprinkle with Parmesan cheese, and return to oven (uncovered).
Bake for another 20-30 minutes, or until potatoes are done to desired tenderness.
Sprinkle with chopped fresh parsley and serve.
Notes
Parmesan cheese may be sprinkled on just after baking if desired.
To achieve the perfectly crispy on the outside and fluffy on the inside texture you need a starchy kind of Potatoes like Idaho or Russet if they are called baking potatoes they will also work.