Gravy-Smothered Beef and Mushrooms
Spoon this chunky, gravy-rich stew over mashed potatoes or noodles for a yummy comfort food dinner.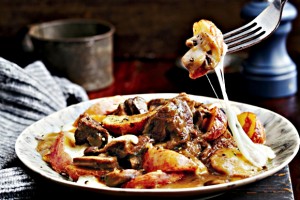 Ingredients
2 cups (500 mL) boiling water
2 pkg (each14 g) dried exotic mushrooms, chopped
¼ cup (60 mL) butter
2 sweet onions, thinly sliced
4 cloves garlic, minced
900 g stewing beef cubes
¾ tsp (4 mL) each salt and pepper
⅔ cup (150 mL) all-purpose flour
2 tbsp. (30 mL) vegetable oil
1 pkg (900 mL) sodium-reduced beef broth
½ tsp (2 mL) dried thyme
2 bay leaves
2 tsp (10 mL) Dijon mustard
1 tsp (5 mL) Worcestershire sauce
2 pkg (each 227 g) cremini mushrooms, thinly sliced
Directions
In bowl, pour boiling water over dried mushrooms; set aside. In Dutch oven or heavy-bottomed saucepan, melt 2 tbsp of the butter over medium heat; cook onions, stirring occasionally, until golden, about 25 minutes. Stir in garlic; cook, stirring, for 1 minute. Scrape into separate bowl; set aside.
Toss beef with half each of the salt and pepper; toss in 3 tbsp of the flour. In same pan, heat oil over medium-high heat; cook beef, in batches and stirring occasionally, until browned, about 7 minutes. Stir in onion mixture, 3 cups of the broth, 2 cups water, thyme, bay leaves, soaked mushrooms and soaking liquid, and remaining salt and pepper.
Bring to boil; reduce heat, cover and simmer just until beef is tender, about 1-1/2 hours. Discard bay leaves; stir in mustard and Worcestershire sauce.
Meanwhile, in skillet over medium-high heat, melt remaining butter; cook cremini mushrooms, stirring occasionally, until softened, about 5 minutes. Stir in remaining flour; cook, stirring occasionally, until flour is golden, about 3 minutes. Whisk in remaining broth until smooth. Stir into stew; bring to boil. Reduce heat and simmer, stirring occasionally, until thickened, about 20 minutes.
Notes
Make ahead: Let cool for 30 minutes. Refrigerate in airtight container for up to 3 days or freeze.