Grasshopper Pie Mini Dessert Parfaits
Minty, marshmallow grasshopper parfaits with an Oreos cookie crust layered with a chocolate ganache is the modern version of the retro grasshopper pie dessert. This make-ahead dessert is great for that unexpected company or holiday meal.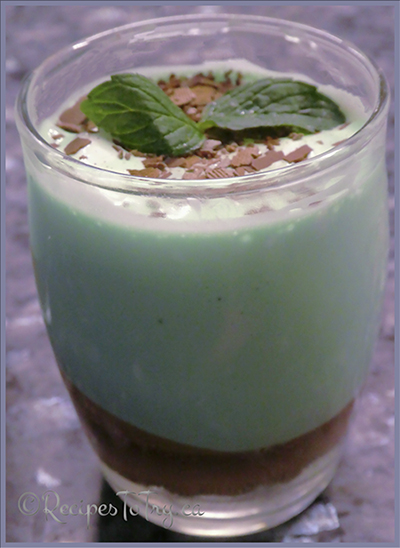 Ingredients
6 oz. (180 gm) Oreo cookies
Ganache
8 oz. (226 gm) of whip cream
4 oz. (113 gm) of semi sweet chocolate
Mint filling
2 (7-ounce) (213 gm) jars marshmallow fluff
1 (8-ounce) (226 gm) container Cool Whip
3 ounces (89 ml) crème de menthe
1-2 drops green food coloring
Toppings
2 tablespoons chocolate shavings
1 bunch, fresh mint, leaves only
Directions
Make the Ganache (see below for directions) as this will be added on top of the cookie crust.
In a food processor chop the complete cookie until coarsely chopped. Spoon 1 tablespoons of ground Oreos into each mini dessert glass. Use the back end of a wooden spoon handle to press and firmly pack the cookie crumbs.
Add the ganache on top of the cookie crumb base and chill while making the parfait filling.
In a large bowl, whip marshmallow fluff, Cool Whip, crème de menthe, and green food coloring together until well-combined. Set in freezer for 15 minutes.
Spoon the grasshopper filling into each mini glass. Sprinkle with chocolate shavings. Freeze for 2 hours to set.
When ready to serve, serve straight from the freezer. Garnish each mini glass with mint leaves.
Ganache
This recipe will make enough to double the recipe (which I normally I do as it disappears so quickly)
Directions
Heat the cream: Pour the cream into a small saucepan and place it over medium-low heat for a few minutes. Keep an eye on the cream — it's not necessary to boil or simmer it. It just needs to get hot. The cream is ready when you can place a finger in the cream and keep it there for 3 to 4 seconds. Turn off the heat and remove the cream from the stove.
Chop the Chocolate: While the cream is heating, chop the chocolate into fine pieces (a food processor works great for this).
Add the chocolate: Scoop the chocolate into the cream. Stir gently to distribute the chocolate through the cream and then let it sit for a few minutes to give the chocolate time to soften and melt.
Stir the mixture: With a spatula or wooden spoon, stir the ganache. At first, it might look spotty and broken but keep stirring until it comes together in a creamy mass. Cool a little (it will harden as it cools, so you will need to use it when slightly thickened to be able to spread it over the cookie crust.)
Notes
This is a great make-ahead dessert.