Gluten Free or Paleo Banana Raisin & Nut Muffins
These are so wonderfully moist and delicious that you may need to double the recipe.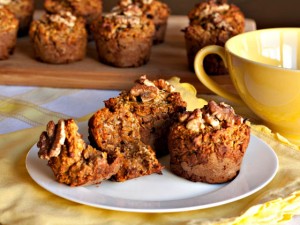 Source:
Recipe shared by a friend
Prep time:
Cook time:
Total time:
Ingredients
¼ c butter
¼ c sugar
1 egg
2 very ripe bananas
¼ c teff flour (teff is a very tiny seed like grain that is supposed to be gluten free)
¼ cup almond flour
¼ c coconut flour
½ tsp. baking soda
¼ tsp. salt
½ tsp. vanilla
½ cup Raisins
½ cup Walnuts (plus 12 walnut halves for garnish)
Directions
Preheat oven to 375 F
Cream butter and sugar, add in bananas and beat well, add in 1 egg and beat more. Add vanilla.
Combine dry ingredients, then add dry to wet combo. Fold in Raisins & walnuts
Beat until combined. The mixture will seem dry but the texture is moist once baked.
Add chopped walnuts and raisins if desired (about ½ c each)
Oil twelve muffin paper and put in muffin pan Place a walnut on top.
Bake about 15 to 16 minutes or until a toothpick comes out clean.
Notes
As these ingredients are not common a quick search for these ingredients showed that I could find them at the Bulk Barn here in Calgary, Alberta . Where it will be possible to obtain a smaller amount. Also can be found at Community Natural Foods Store here in Calgary, Alberta.