Glazed Butternut Squash with Sage & Toasted Pecans
Butternut squash already has such a sweet and rich taste to it so when mixed with other flavors, this winter fruit really is enhanced and makes for a show stopping side dish!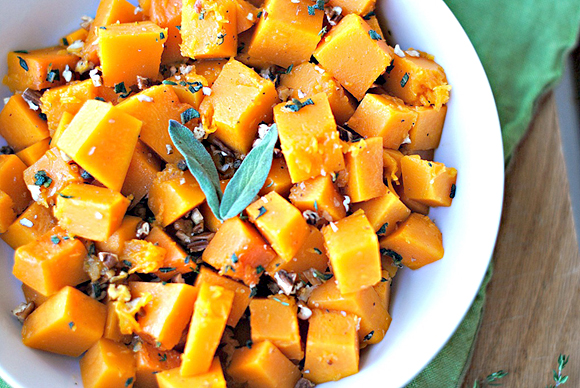 Ingredients
1 large butternut squash, peeled and cut into 2-inchpieces (about 4 cups)
½ cup apple cider
¼ cup water
1 Tbsp. honey
2 tsp. sugar in the raw
1 tsp. salt
½ tsp. pepper
¼ cup chopped pecans, toasted
1 Tbsp. fresh sage, chopped
1 tsp. fresh thyme
Directions
In a large 12-inch nonstick skillet, toss together butternut squash, apple cider, water, honey, sugar, salt and pepper.
Bring to just a boil, then cover and reduce heat allowing everything to simmer for about 25 minutes, stirring occasionally.
Uncover and cook an additional 5 minutes until liquid has thickened and the squash is tender.
Pour mixture into a large bowl and add chopped pecans, sage and thyme. Mix together and serve immediately. Enjoy!
Notes
Could use sweet yams for this or combination of both. If following weight watchers + this recipe is worth 5 pts.
Nutrition Information
Serving size:
1 cup
Calories:
166
Fat:
4.8 g
Carbohydrates:
32.7 g
Fiber:
.7 g
Protein:
2.5 g