Glazed Baked Ham with Fruit Sauce
Honey, cider and spices flavor this raisin fruit sauce. Canadian back bacon would be a good choice for this recipe too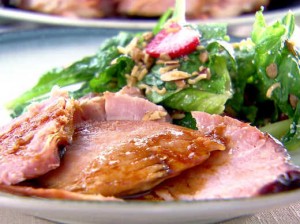 Ingredients
1 ham, 4 to ready to serve or precooked
½ cup brown sugar
½ cup honey
1 ½ cup apple cider
1 lemon juice and rind
¼-tsp ground cloves
¼ tsp of ground allspice
1 cup raisins
½ cup chopped dried apricots or mixed dried fruit
¼ cup brown sugar
¼ cup honey
2 tbsp. cornstarch
1 cup cold water
Directions
If ham has rind, remove it with a sharp knife. Sprinkle the ¼ tsp of ground cloves on outside. Combine ½ cup brown sugar and honey, cider, lemon juice and rind, and spices. Pour over ham in roasting pan. Cover with foil or lid, and bake in 350 F oven for 1 to 1 ½ hour or the internal temperature reaches 160 F. Baste occasionally, adding the raisins and dried fruit for the last half hour.
Mix remaining ¼ cup brown sugar and honey; spread on top of the ham. Raise heat to 425 F and bake uncovered about 15 minutes longer. Remove ham to a platter Skim any excess fat from roasting pan. Blend cornstarch with cold water; stir into roasting pan on top of stove. Cook and stir until thickened. Serve the sauce separately, or spoon a little over each serving.
Notes
Can use Lemon juice and dried lemon rind instead of fresh lemon.

Can use 1 cup of apple juice and ½ cup of apple cider vinegar instead of the apple cider.