Frozen Blueberry Yogurt Bark
These cool and refreshing low calorie treats are a great, healthy snack. Surprisingly full of nutrient power packed with calcium, vitamin C, potassium, and antioxidants.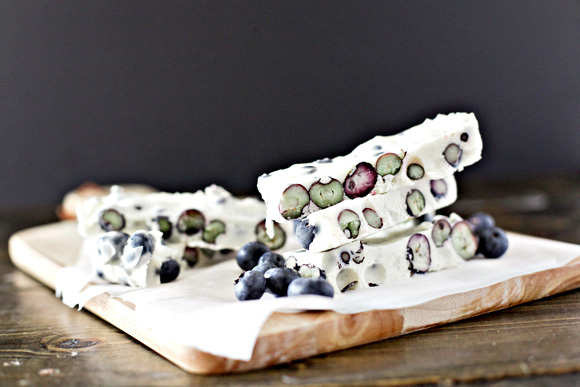 Ingredients
2 c. plain fat free Greek yogurt
⅓ c. honey
1 tbsp. vanilla extract (I used vanilla paste)
2 c. blueberries, washed and stray stems removed
Directions
In medium sized bowl, stir together the yogurt, honey and vanilla.
Gently stir in the blueberries and mix until all combined.
In a parchment lined 9 x 13 pan, pour in the yogurt mixture and spread out evenly making sure blueberries are evenly distributed.
Freeze overnight and cut into desired serving size
Notes
**If you have other flavored yogurt on hand, omit the honey and vanilla and just mix the yogurt and blueberries together instead.
Nutrition Information
Serving size:
1 piece 38 g
Calories:
47
Fat:
0
Saturated fat:
0
Unsaturated fat:
0
Trans fat:
0
Carbohydrates:
11.7 g
Sugar:
10.5 g
Sodium:
4 mg
Fiber:
.7 g
Protein:
.4 g
Cholesterol:
0