Faux Cauliflower Fried Rice ActiFry recipe
Tasty and low calorie great substitute for a low Carbohydrate diet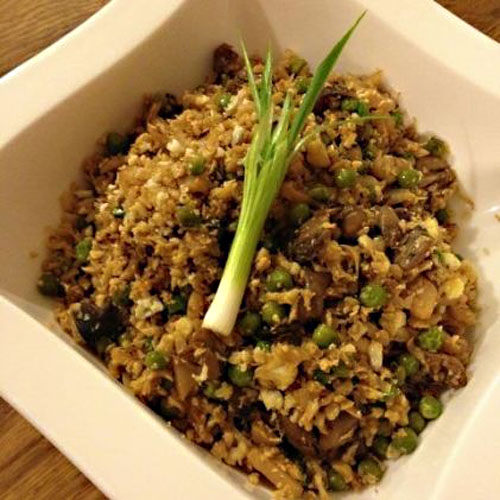 Prep time:
Cook time:
Total time:
Ingredients
1 Large head of Cauliflower
1 actifry spoon of sesame oil
1 actifry spoon of peanut oil
2 actifry spoons of low sodium soy sauce
1 can of sliced water chestnuts
1 can of Chinese mushrooms
2-3 cloves garlic, minced
1 cup frozen peas
Chopped Scallions optional to taste
Directions
Grate one head of cauliflower using the large side of the grater. I use the largest cauliflower I can find, otherwise use two small heads. Roughly chop water chestnuts into smaller bite sized pieces Pour grated cauliflower, water chestnuts, Chinese mushrooms, minced garlic, sesame oil, peanut oil, and soy sauce in the actifry. Set Timer for 30 minutes. About 15 minutes into cooking time, pour frozen green beans in the actifry. Check for doneness after 25 minutes. Depending on the size of the cauliflower you use, it is sometimes done before 30 minutes. Pour in large serving dish and sprinkle with chopped scallions.
Notes
You can also add scrambled eggs if you desire.

Although this was made in an actifry machine it would be equally as good by stir frying.