Famous Beef & Beer Chili
Coffee and beer give this thick, spicy, beefy chili deep layers of flavor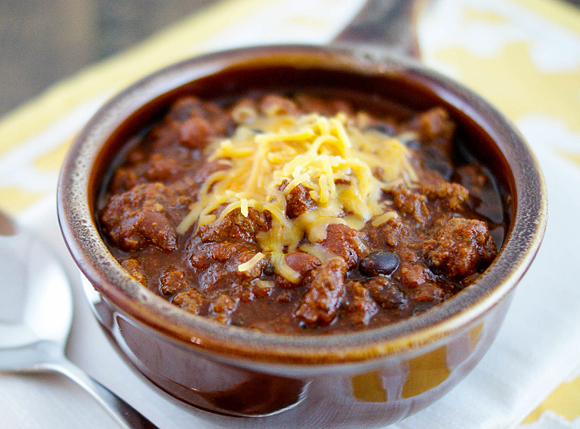 Prep time:
Cook time:
Total time:
Ingredients
2 teaspoons oil
2 onions, chopped
3 cloves garlic, minced
1 lb. lean ground beef
¾ lb. beef sirloin, cubed
1 (14½ ounce) can diced tomatoes with the juice
1 bottle Eisbock Beer (341 mL) or another dark beer
1 cup strong coffee
2 (6 ounce) cans tomato paste
1 can beef broth
½ cup brown sugar
3 ½ tablespoons chili sauce or powder
1 tablespoon cumin
1 tablespoon cocoa
1 teaspoon oregano
1 teaspoon cayenne
1 teaspoon coriander
1 teaspoon salt
4 (15 ounce) cans kidney beans
4 hot chili peppers, seeded and chopped*
Directions
Heat oil in a large saucepan over medium heat. Cook onions, garlic, ground beef and cubed sirloin in oil for 10 minutes, or until the meat is well browned and the onions are tender.
Mix in the diced tomatoes with juice, dark beer, coffee, tomato paste and beef broth. Season with brown sugar, chili powder, cumin, cocoa powder, oregano, cayenne pepper, coriander and salt. Stir in 2 cans of the beans and hot chile peppers. Reduce heat to low, and simmer for 1½ hours.
Stir in the 2 remaining cans of beans, and simmer for another 30 minutes.
Here's a video on how to make this chili