Keto Instant Pot Meatloaf with Mushroom Gravy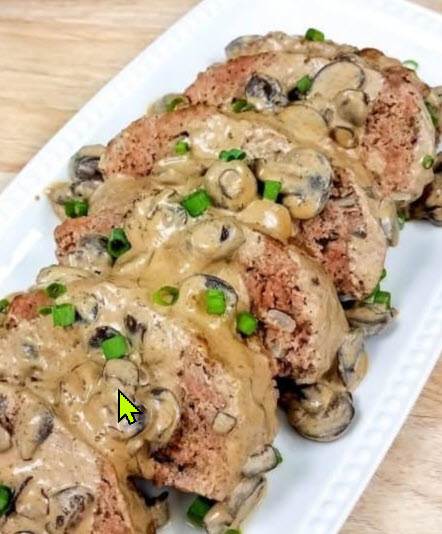 Meatloaf
700 g ground/mince beef
½ onion small
½ tsp black pepper
2 cloves minced garlic
1 tbsp coconut aminos
1 tsp yellow mustard
2 eggs medium
1 tsp Italian seasoning
25 g almond meal/flour
1 tsp salt
Mushroom Gravy
1 tsp olive oil
1 tsp coconut aminos
8 oz baby mushrooms
½ tsp salt
1 tbsp white balsamic vinegar
375 ml beef stock
½ cup sour cream
Turn the Instant Pot to saute mode. Add the olive oil to the Instant Pot. When the oil is hot, add the mushrooms and salt. Sauté for 2-3 minutes. The salt will help the mushroom breakdown and soften.
Add the balsamic vinegar, coconut aminos, and beef broth. Give it a quick stir, then turn off the Instant Pot and place a trivet over the mushrooms. Be sure to turn off the Instant Pot or all your gravy will evaporate.
In a large bowl mix together all the ingredients for the meatloaf. Mix the meatloaf until the eggs are thoroughly mixed in.
Cut a large piece of aluminium foil. Place the meatloaf mixture in the centre of the aluminium foil. Then shape the meat into the form of a meatloaf that will fix inside of the Instant Pot.
Fold the side of the foil up and seal it at the top to form a foil packet. Place the foil packet on the trivet in the Instant Pot. Close the lid then turn the pressure valve to point toward sealing.
Cook the meatloaf on high pressure using the "manual" or "pressure cook" function for 35 minutes. Release the pressure quickly by using the back of a spoon to turn the pressure release valve to point toward "open".
Remove the meatloaf from the Instant Pot and set aside to rest for at least 10 minutes before opening the packet and draining any excess liquid from the packet.
While the meatloaf is resting turn the Instant Pot back to saute mode. Mix the sour cream into the mushroom gravy. Continue to mix the gravy until the liquid has reduced about ⅓ of the way and the gravy has thickened. You will yield about 1 cup gravy.
Serve the meatloaf topped with the mushroom gravy and a side of mashed cauliflower or salad. Garnish is green onions or fresh parsley.
For a thicker gravy - continue to reduce the liquid until the desired consistency. Balsamic vinegar does contain a small number of carbs, but only 3g per tbsp. You may want to use regular white vinegar but may need to add a pinch of sweetener to the sauce so it isn't so acidic tasting.
Serving size:
1
Calories:
618
Fat:
47g
Carbohydrates:
7g
Sugar:
3g
Fiber:
1g
Protein:
38g
Recipe by
Recipes to Try
at https://recipestotry.ca/keto-instant-pot-meatloaf/