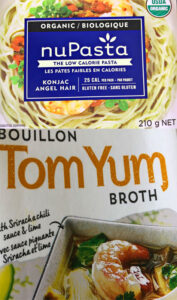 Where to buy Tom Yum Broth
I found it at the local Superstore in Calgary.
Can't find ready-made Tom Yum broth
you can just add the following ingredients to 1 quart/liter low sodium chicken broth, 2 stalks lemongrass, 1 inch peeled galangal root, sliced into discs (or substitute ginger root) 4 wild lime leaves (optional)
NuPasta Angel Hair what is it?
It is a gluten-free pasta made from the konjac plant. A 210 g package contains: 25 calories, 1 g fat, 0 mg sodium, 6 g carbohydrates, o g sugar, 6 g fibre, and 1 g sugar.
Where to buy
Can be found at Superstore, Wallmart, Well.ca