Bavarian Red Cabbage (instant pot mini)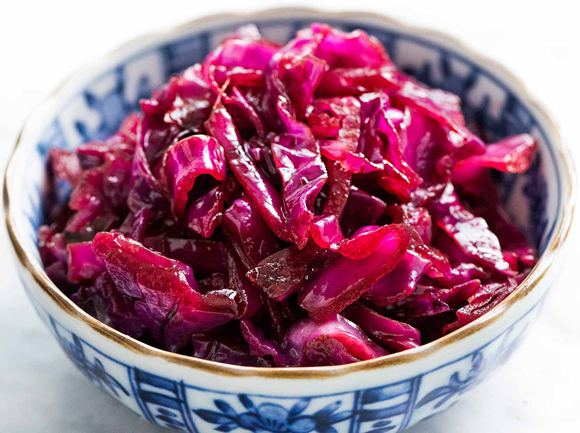 ½ large red cabbage, about 1- ½ pounds shredded to ½ inch thick
5 slices of bacon chopped into pieces
1 tablespoon r bacon grease
½ large onion, small dice
1 large tart apple, peeled, cored and sliced
2 tablespoons red wine vinegar
½ cup red wine
1-2 bay leaves
½ cup beef broth
1 teaspoon salt
¼ teaspoon ground cloves
½ cinnamon stick
1 ½ tablespoons brown sugar
1 tablespoon all-purpose flour
To thicken red cabbage:
½ tablespoon cornstarch dissolved in 1 tablespoon red wine + ½ tablespoon red wine vinegar
*1 tablespoon red currant jam (optional)
In a frying pan place the chopped bacon and cook until crisp (set aside) reserve 1 tablespoon of the bacon grease.
Remove the outer leaves from the cabbage and discard. Cut the cabbage in half and remove the core. Lay each half cut side down and slice the cabbage into 3 pieces. Cut each piece crosswise into ½ -inch strips. Alternatively, you can prepare the cabbage in a food processor fitted with a slicing disk. Set aside.
Core the Apple and cut in half then quarters and slice or use the food processor fitted with a slicing disk. Set Aside
Set Instant Pot to Sauté. Wait until it says hot then add the bacon grease. Add the onion and apple and sauté until soft, about 10 minutes. Hit Cancel button.
Add the cabbage. Add the red wine vinegar, red wine, beef broth, bay leaves, salt, cinnamon stick, ground cloves, and brown sugar. Sprinkle flour over top of cabbage and gently stir, just until you do not see any lumps.
Select Manual and adjust the time to 8 minutes. Do a quick release 10 minutes after the end of cooking cycle. Hit Cancel.
Press Sauté. Bring to a boil and add the cornstarch slurry. Stir and let boil for about 5 minutes until thickened. If using, stir in bacon pieces and if using red currant jam and taste for seasoning.
Discard the bay leaves and cinnamon stick before serving.
Recipe by
Recipes to Try
at https://recipestotry.ca/bavarian-red-cabbage-instant-pot-mini/