Pork Tenderloin with Roasted Cherries and Shallots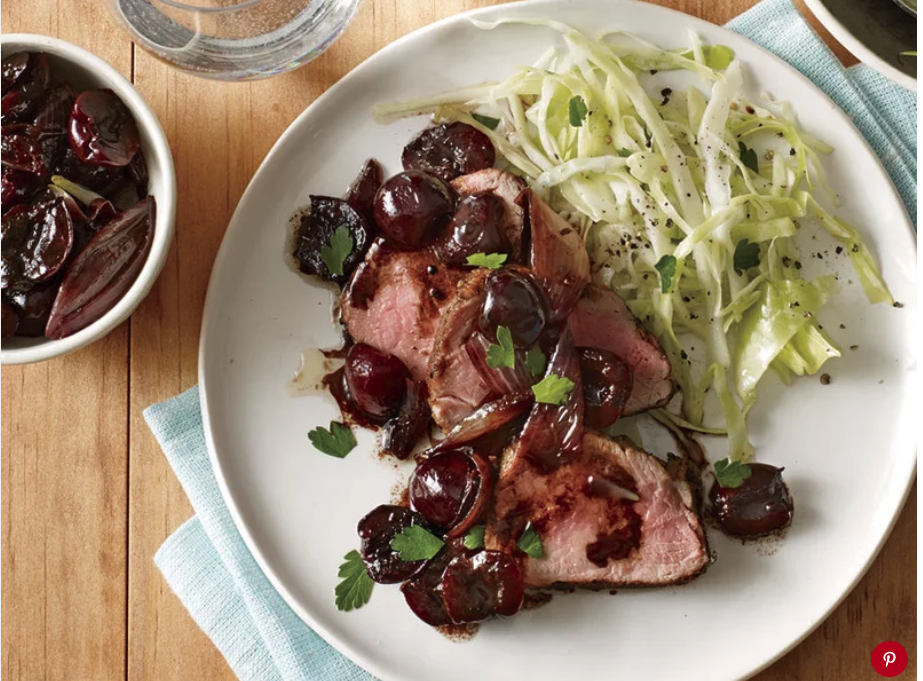 2 tablespoons canola oil divided
¾ teaspoon kosher salt, divided
½ teaspoon black pepper
½ teaspoon ground cumin
⅛ teaspoon ground cinnamon
1 (1-pound) pork tenderloin, trimmed
3 large shallots quartered
8 ounces fresh cherries pitted and halved
¼ cup unsalted chicken stock
2 tablespoons balsamic vinegar
½ teaspoon brown sugar
1 tablespoon butter
¼ cup coarsely chopped fresh flat-leaf parsley
Preheat oven to 425°.
Heat a large ovenproof skillet over medium-high heat. Add one tablespoon oil; swirl to coat. Combine ½ teaspoon salt, pepper, cumin, and cinnamon. Rub pork evenly with spice mixture. Add pork to pan; sauté 4 minutes. Turn pork over; place pan in the oven and bake at 425° for 15 minutes or until a thermometer register 140°. Remove pork from pan; place on a cutting board (do not wipe out pan). Let pork stand 10 minutes. Cut into thin slices.
Add remaining one tablespoon oil to pan; swirl to coat. Add shallots and cherries; sprinkle with remaining ¼ teaspoon salt. Place pan in oven; bake at 425° for 10 minutes (do not turn cherries). Carefully remove the pan from oven; place over medium-high heat. Stir in stock, vinegar, and sugar; bring to a boil. Cook 4 minutes or until liquid is syrupy. Remove from heat; stir in butter. Serve cherry mixture with pork; sprinkle with parsley.
Substitute Basil for the parsley for a tasty change. No Shallot, a small yellow onion will work. No fresh cherries, frozen unsweetened will work you will just have to cook longer to reduce the liquid to a syrupy consistency.
Recipe by
Recipes to Try
at https://recipestotry.ca/pork-tenderloin-with-roasted-cherries-and-shallots/