Garlicky Zucchini Noodles with Prosciutto & Apple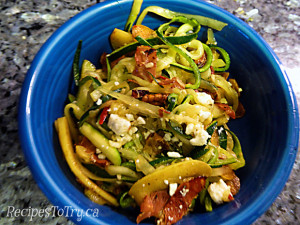 Source:
RecipesToTry.ca adapted from bhg.com
2 medium zucchinis (about each), trimmed and cut into long thin strands ( See note)
3 tablespoons walnut oil or olive oil
6 cloves garlic, minced
½ cup walnut pieces toasted.
½ teaspoon kosher salt
¼ teaspoon crushed red pepper
4 thin slices prosciutto chopped
1 apple, cored and thinly sliced.
2 ounces Greek Feta cheese crumbled
Toast walnut pieces in large skillet sprayed with cooking oil until toasted about 2 to 3 minutes. Set aside.
Heat 2 tablespoons of the oil in the large skillet over medium-high heat. Add the garlic. Cook, stirring constantly, for 2 minutes or until softened and just starting to brown. Add zucchini; cook and stir for about 4 minutes or until tender crisp. Transfer to a serving bowl and keep warm.
Drain any liquid in skillet and add remaining oil to skillet. Add prosciutto and cook for 2-3 minutes or until browned and crisp. Add to zucchini.
Add apple to skillet and sauté for about 2 minutes until just tender soft. Add to Zucchini mixture. Add toasted walnut pieces, salt and crushed red pepper; Toss to combine. Top with Greek Feta cheese.
Use a spiral vegetable slicer to cut noodles into long thin strands (or use a vegetable peeler to cut into ribbons). Use a kitchen scissors to cut through the strands to make them easier to serve.
Recipe by
Recipes to Try
at https://recipestotry.ca/garlicky-zucchini-noodles-with-prosciutto-apple/