Slow Cooker Beef Burgundy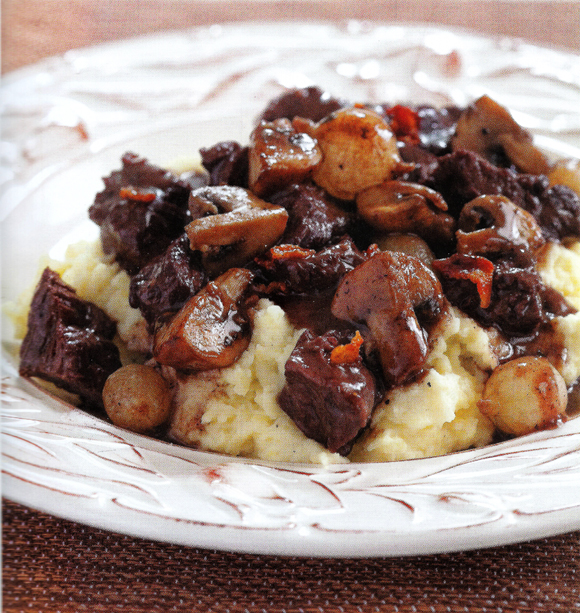 3½ - 4 pounds - beef chuck roast, round roast, or another similar cut, cut into 1 ½ -inch cubes
1 tablespoon vegetable oil
4 ounces bacon (5-6 slices), minced
3 medium onions, minced
1 medium carrot, minced
¼ cup tomato paste
6 cloves garlic, minced
1 tablespoon minced fresh thyme or 1 teaspoon dried
⅓ cup all-purpose or gluten-free flour
2½ cups good red wine, divided (Pinot Noir)
1½ cup chicken broth, plus more if necessary
⅓ cup soy sauce
2 bay leaf
2 cups frozen pearl onions
½ cup water
3 tablespoons of unsalted butter
2 teaspoons sugar
¾ pound cremini (brown) mushrooms, trimmed and halved if small or quartered if large
Dry beef with paper towels and season with salt and pepper. Place ½ of beef in slow cooker. Heat oil in 12-inch skillet over medium-high heat until just smoking. Brown remaining beef well on all sides, 7 to 10 minutes: transfer to slow cooker.
Cook bacon in a skillet over medium-high heat until crisp, about 5 minutes. Stir in onions, carrot, tomato paste, garlic and thyme and cook until onions are softened and lightly browned. 8 to 10 minutes. Stir in flour and cook for 1 minute. Slowly whisk in 1¼ cups wine, scraping up any browned bits and smoothing out any lumps; transfer to slow cooker.
Stirring the broth, soy sauce, and bay leaves into slow cooker. Cover and cook until beef is tender. 9-11 hours on low or 5 to 7 hours on high.
About 20 minutes before serving, bring pearl onions, water, butter and sugar to boil in 12-inch skillet. Reduce to a simmer, cover and cook until onions are fully thawed and tender, 5 to 8 minutes. Uncover, bring to a boil and cook until all liquid evaporates, 3 to 4 minutes. Stir in mushrooms and cook until vegetables are b owned and glazed. 8 to 12 minutes; transfer to slow cooker.
Add remaining 1¼ cups wine to skillet and simmer until it has reduced by half, 6 to 8 minutes' transfer to slow cooker. Let stew settle for 5 minutes, then remove fat from surface using a large spoon. Discard bay leaves. Adjust stew consistency with additional hot broths as needed. Season with salt and pepper to taste and serve
Serve over mashed potatoes or noodles.
Make sure you cut the beef into at least 1-inch chunks as a smaller size will disincarnate during the long cooking process.

The stew reheats well and is one of those dishes that tastes even better the second or third day.

The gravy base of the stew is boosted; by browning half of the meat and by sautéing bacon with a hefty amount of garlic and thyme and adding tomato paste for sweetness and soy sauce for extra meatiness. To keep the flavor to the wine in balance half of it is added at the onset and then the remaining half is reduced to mellow its sharpness before adding it the at the end. The onions and mushrooms are added at the end to prevent these vegetables from over cooking and becoming soggy.

There is a lot of extra prep time, but it is worth it to ensure that this a rich tasting company worth beef burgundy.
Serving size:
320 g
Calories:
385
Fat:
17.
Saturated fat:
7.4g
Trans fat:
0
Carbohydrates:
11.9 g
Sugar:
4.9g
Sodium:
1064mg
Fiber:
2.3 g
Protein:
43.3 g
Cholesterol:
128 mg
Recipe by
Recipes to Try
at https://recipestotry.ca/slow-cooker-beef-burgundy/