Unstuffed Cabbage Rolls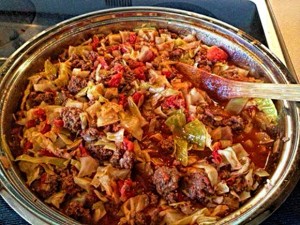 1 tablespoon olive oil
1½ to 2 pounds lean ground beef
1 large onion, chopped
1 clove garlic, minced
1 small cabbage, chopped
2 cans (14.5 ounces each) diced tomatoes
1 can (8 ounces) tomato sauce
½ cup of Ketchup
1 tablespoon cider vinegar
1 tablespoon brown sugar
½ teaspoon ground cinnamon, optional
Pinch nutmeg, optional
½ teaspoon crushed peppers
½ teaspoon ground black pepper or to taste
1 teaspoon sea salt or to taste
In a large skillet or Dutch oven, heat the olive oil and add the onions cook 1 to 2 minutes until onions are softened add the ground beef and brown. Drain.
Add the garlic and cook an additional minute.
Add remaining ingredients.
Bring to a boil, cover, reduce the heat and simmer about 25 minutes or until the cabbage is tender.
Serving size:
348 g
Calories:
248
Fat:
7.5 g
Saturated fat:
2.3 g
Trans fat:
0
Carbohydrates:
17.6 g
Sugar:
12 g
Sodium:
652 mg
Fiber:
4.4 g
Protein:
28.7 g
Cholesterol:
76 mg