Sweet and Spicy Ham and Cheese Puff Pastries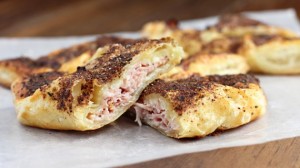 Spice Blend:
½ TABLESPOON CHILI POWDER
1 TEASPOON COARSELY GROUND BLACK PEPPER
½ TEASPOON DRIED THYME
½ TEASPOON GROUND ALLSPICE
½ TEASPOON GROUND CINNAMON
¼ TEASPOON GROUND CLOVES
¼ TEASPOON ONION POWDER
⅛ TEASPOON GARLIC POWDER
FINE SEA SALT, TO TASTE
For the Pastries:
ONE 17.3-OUNCE PACKAGE FROZEN PUFF PASTRY (2 SHEETS), DEFROSTED ACCORDING TO PACKAGE DIRECTIONS
½ POUND THINLY SLICED BLACK FOREST HAM
½ POUND SHARP WHITE CHEDDAR CHEESE, THINLY SLICED
1 EGG, BEATEN WITH 1 TABLESPOON WATER, FOR EGG WASH
1 TEASPOON FINE SEA SALT
Position a rack in the lower third of the oven, and preheat the oven to 400 degrees F. Line a baking sheet with a Silpat® or parchment paper.
Combine the Spice Blend ingredients in a small bowl. Set aside.
To Make the Pastries: Unfold the pastry sheets on a lightly floured surface. Cut each pastry sheet into four (about 5-inch) squares.
Place the ham and cheese on the centers of the pastry squares, dividing them evenly.
Sprinkle some of the Spice Blend lightly over the ham and cheese.
Fold two opposite corners of each square over the filling to make a pouch, and press the edges to seal; transfer the pastries to the prepared baking sheet. (If the pastry edges aren't sticking together, dab them with a little water to help "glue" them in place.)
Brush each pastry evenly with egg wash. Sprinkle them with more Spice Blend, to taste. Sprinkle sea salt evenly over the pastries.
Bake for 12 to 14 minutes, until the pastries are golden brown. Remove the pastries from the baking sheet, and cool on a wire rack for 10 minutes. Serve warm or at room temperature.
Recipe by
Recipes to Try
at https://recipestotry.ca/sweet-and-spicy-ham-and-cheese-puff-pastries/