ROSEMARY DIJON AND PANKO CRUSTED RACK OF LAMB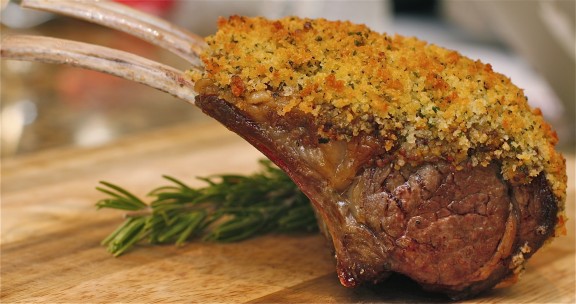 Source:
Source: RecipesToTry.com
Rack of Lamb
1- 6 rib, frenched*** rack of lamb
2 sprigs of rosemary **** or ½ teaspoon dried rosemary
½ teaspoon garlic powder
¼ cup extra virgin olive oil, + 1 T
3 tablespoons Dijon mustard
½ c panko bread crumbs
⅓ cup ground nuts (can use a mixed nut bag and grind yourself. )
Salt and Pepper
Port Jus Sauce For Lamb
2 Shallots minced or finely chopped
⅓ cup White onion minced
2 garlic cloves minced
1 cup Port or Sherry
½ cup Beef stock
½ teaspoon Dijon mustard
½ tablespoon unsalted butter, cut into pieces
1 tsp. mint sauce or jelly or ½ teaspoon of mint extract ( if using extract add 1 tsp. sugar)
salt and pepper to taste
fresh mint
Rack of Lamb
Season whole frenched rack of lamb with salt and pepper. Sear both sides of rack to a golden brown before continuing with the recipe. Spread a liberal mount of Dijon mustard on the meat. Mix Panko, rosemary leaves and ground nuts in a bowl. Roll and press the mixture onto the rack. Bake at 350 for 20 minutes for medium and take out of oven and let rest for 5 min. You could also hold them in the oven to rest until needed set the oven low at about 160
Port Jus Sauce for Lamb
Drain off all but 1 tablespoons of the drippings from the frying pan. Add the shallots, onion and garlic and sauté, stirring frequently for 3-4 minutes. Add the Port and stock and bring to a boil over high heat. Cook until reduced b half, about 5 minutes. Reduce the heat to medium. Whisk in the mustard, mint jelly, and then the butter. When the butter has melted and the sauce is smooth, season with salt and pepper.
To Serve: Slice the chops in to individual pieces, spoon on the sauce, and serve immediately.

Frenched Rack of Lamb (Costco has these already frenched )
(***"Frenching" refers to scraping the meat off the tips of the bones. There should also be about ⅛th of an inch of fat on your lamb)
****Fresh Rosemary (leaves to remove from stems slide fingers from top to bottom of stem.
Recipe by
Recipes to Try
at https://recipestotry.ca/rosemary-dijon-and-panko-crusted-rack-of-lamb/