Balsamic roast chicken with Caramelized Pearl Onions, Carrots, and Tomatoes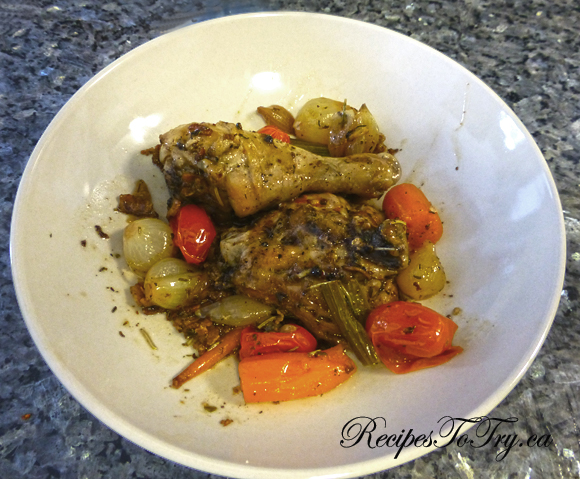 1 3-lb whole free-range organic chicken, cut into 8 parts
1 tsp. Maldon sea salt
½ tsp. freshly ground black pepper
2 tbsp. extra-virgin olive oil
4 slices Bacon chopped
1 cup pearl onions, peeled and halved
1 tbsp. each: chopped fresh rosemary and thyme
2 tbsp. aged balsamic vinegar
½ cup white wine
¾ cup carrots chopped into 1" pieces
2 stalks Celery chopped into ¼ " pieces
½ pint grape tomatoes
Preheat the oven to 350°F. Season the chicken pieces all over with salt and pepper.
Heat the olive oil over high heat in a large cast-iron casserole pan or Dutch oven and sear the chicken pieces in two batches, turning occasionally, until well browned all over.
Remove the chicken from the pan. Turn the heat down to medium and add the bacon cook until crisp 8 to 10 minutes. Remove from pan and set aside.
Add .pearl onions; carrots, and celery and cook until the onions are caramelized 8 to 10 minutes.
Drain all but 1 tablespoon of the oil from the pan and return the chicken pieces. Add the herbs, vinegar and wine and bring to a boil.
Add the tomatoes and bacon then bake, covered, for 45 to 50 minutes, until the chicken is cooked through. Remove lid during last 15 minutes of roasting.
Recipe by
Recipes to Try
at https://recipestotry.ca/balsamic-roast-chicken-with-caramelized-pearl-onions-carrots-and-tomatoes/