Braised Brussels Sprouts with Bacon and Beer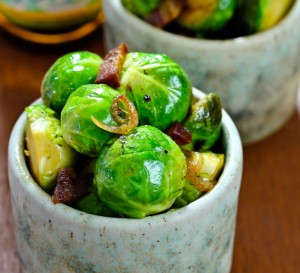 Source:
A spicy perspective
2 lbs. Brussels Sprouts
6 oz. thick cut bacon, chopped
1 shallot, peeled and sliced
12 oz. bottle beer, something light and crisp
½ tsp. salt
¼ tsp. pepper
Pinch crushed red pepper
Trim the ends of each Brussels Sprout, removing excess leaves. Cut the sprouts in half, leaving the smallest sprouts whole.
Place a large skillet over medium heat. Add the chopped bacon and sauté until crisp.
Add the sliced shallot. Sauté another 2-3 minutes to soften. Then add the Brussels Sprouts. Stir and sear the sides of the sprouts for 4-5 minutes.
Pour the bottle of beer into the skillet. Add the salt an both peppers. Bring to a simmer and lower the heat a little. Stir and simmer until the beer has reduced to a glaze and the sprouts are cooked through--12-15 minutes.
Recipe by
Recipes to Try
at https://recipestotry.ca/braised-brussels-sprouts-with-bacon-and-beer/