Shrimp Suprise Spread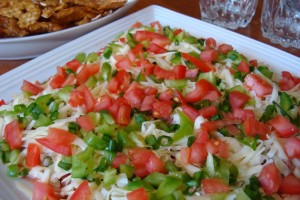 Source:
From Family recipes
1 (8 ounce) packages cream cheese or light cream cheese
½ cup sour cream or low fat sour cream
¼ cup Miracle Whip or ¼ cup mayonnaise or light miracle whip
3-4 small cans of broken baby shrimp rinsed and drained
1 cup seafood cocktail sauce
1 green pepper chopped finely
2 cups shredded mozzarella cheese or light mozzarella cheese
3 green onions chopped
1 tomato, diced
Mix first three ingredients.
Spread into a pie plate or onto a pizza pan.
Spread the cocktail sauce on next.
Top with green onions, shrimp, tomatoes, green peppers and cheese.
Cover and chill for at least 2 hours.