Jamaican Jerk Turkey Burgers with Tropical Fruit Salsa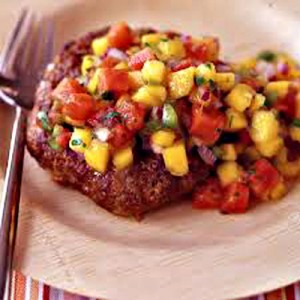 ½ cup papaya, diced
1 cup mango, diced
¾ cup onion finely chopped, divided
½ cup green pepper, finely chopped, divided
2 Tbsp. cilantro, fresh, chopped (optional)
2 Tbsp. fresh lime juice
½ cup uncooked quick oats or Panko crumbs
⅓ cup ketchup
1 Tbsp. jerk seasoning, Jamaican-variety
1 large egg
1 pound uncooked ground turkey
To prepare salsa, combine papaya, mango, ¼ cup each of red onion and green pepper, cilantro and lime juice in a medium bowl; set aside. (Note: You can make the salsa up to 1 day in advance.)
To prepare burgers, combine remaining ½ cup of red onion, remaining ¼ cup of green pepper, oats or Panko crumbs, ketchup, jerk seasoning and egg in a large bowl; mix until well combined. Add turkey; mix thoroughly. Divide turkey mixture into 4 equal portions and shape each portion into a 1-inch-thick patty; cover and refrigerate for a minimum of 20 minutes.
Preheat broiler. Broil burgers until cooked through, flipping once, about 16 -20 minutes total. Serve each with about a heaping ⅓ cup of salsa.
These Caribbean-inspired burgers also taste great made with ground chicken breast or extra-lean ground beef. Trim prep time by making the fruity salsa a day in advance

This is a weight watchers recipe and has 7 points per serving
Recipe by
Recipes to Try
at https://recipestotry.ca/jamaican-jerk-turkey-burgers-with-tropical-fruit-salsa/