Earls Warm Potato Salad with Roasted Corn and Bacon
I had Earl's warm potato salad and loved it. Had to find a way to make this at home. The following is the result very close in taste and beyond delicious. Make more then you need as there will be no leftovers and if by chance there are; this salad is just as delicious cold.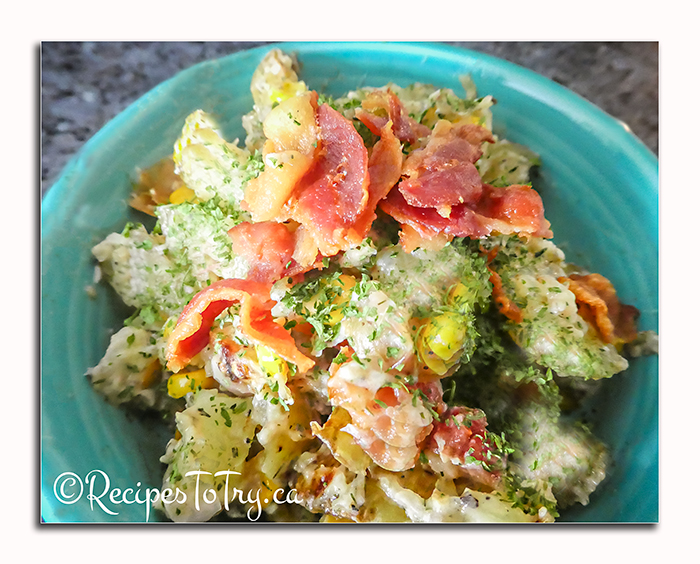 Recipe type:
salad, sidedish
Ingredients
3 lbs baby potatoes diced ½ inch
2 cups frozen corn
1 small red onion, medium dice
4 garlic cloves, chopped
1 lb bacon cooked crisp & crumbled into fairly large pieces
⅓ cup parmesan cheese
⅓ cup sour cream
⅓ cup mayonnaise
1 teaspoon horseradish
2 tablespoons lemon juice
2 tablespoons fresh dill or 1 tablespoon dried dill
salt
fresh pepper
olive oil
Directions
Preheat oven to 425° F.
Dice potatoes place in large bowl add corn, garlic, and chopped onions. Drizzle liberally with olive oil and salt and pepper. Toss to combine.
Spread evenly on a large cookie sheet You may have to use two and bake until the potatoes are cooked and crisp about 30- 45 minutes.
Cook bacon crisp and chop or crumble into large pieces, put aside.
Combine mayonnaise, sour cream, horseradish, lemon juice, dill, Parmesan cheese in large bowl
Add the roasted potatoes, corn, garlic and bacon bits to the dressing and toss. Add Salt and Pepper to taste.
Serve warm.
Leftovers if any are delicious cold!
Notes
Use light mayonnaise and light, low-fat sour cream to save some calories
Also, you can use canned corn (drained).