Crispy Coconut Kale with Roasted Salmon and Coconut Rice
This dish is a great balance of sweet and spicy. The Roasted kale has crispy edges which is the perfect contrast to the melt in your mouth sweet potatoes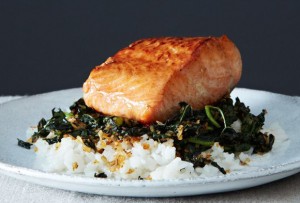 Ingredients
1 cup jasmine rice, uncooked
1 cup coconut milk
1 cup water
½ teaspoon sea salt
⅓ cup coconut oil, melted
1 teaspoon toasted sesame oil
2 tablespoons coconut aminos** (or tamari**)
1 tablespoon Sriracha
3 sweet potatoes, cubed
1 teaspoon paprika
1 tablespoon coconut oil, melted
1 bunch lacinato** kale, ribs removed and sliced into strips
1 cup unsweetened coconut flakes
1 to 1 ½ pound salmon, sliced into 4 fillets
Directions
Rinse rice in cold water and drain. Place in a saucepan with coconut milk, water, and salt. Bring to a boil and stir. Reduce to the lowest heat, cover, and cook for 15 minutes. Remove from heat and let stand 10 minutes, or until ready to serve (it will stay warm for up to an hour).
While the rice is cooking, heat oven to 400° F. In a lidded jar, combine the melted coconut oil, sesame oil, coconut aminos, and Sriracha. Seal the jar and shake vigorously until emulsified.
Place the sweet potatoes on a baking sheet. Drizzle with a tablespoon of melted coconut oil and sprinkle with paprika. Toss to coat. Bake for 30 minutes or until tender.
Place kale and coconut flakes on a baking sheet. Drizzle with about ⅔ of the dressing. Toss until well coated.
Drizzle salmon with 1 to 2 tablespoons of the remaining dressing. Bake the salmon and coconut kale mixture during the last 15 minutes of the sweet potato's baking time, or until cooked through, being careful not to let the kale burn.
Remove sweet potatoes, salmon, and kale from oven. Serve over fluffed rice with an extra drizzle of dressing. Devour!
Notes

Coconut Aminos:
is frequently used in place of soy sauce in Paleo cooking. Coconut Aminos are made from the coconut sap and natural sea salt. They contain 17 amino acids and a small amount of B vitamins. You can use Coconut Aminos in place of soy sauce in your favorite dressings, sauces, or marinades.

Tamari:
is really a class of soy sauce that's made with no (or little) wheat and a greater concentration of soybeans.. Japanese tamari is thicker, richer, and less salty than most soy sauce. The flavor tends to be smoother. Tamari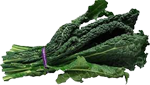 Lacinato Kale:
Also known as Dinosaur Kale, Black Kale or Tuscan Kale. It has dark greenish-blue leaves with a bumpy texture that makes it easily identifiable compared to other smoother Kale varieties. The leaves of Lacinato Kale are easy to strip from the thick, white stalks and their cabbage-like earthy flavor is great in soups or even raw in salads.