Creamy Cajun Chicken Pasta
This Creamy Cajun Chicken is not only delicious, but it is loaded with great nutrients! My dish is a combination of flavorful spices, lean chicken breast, fresh baby spinach, baby Portobello mushroom, and Greek yogurt. The Greek yogurt adds extra protein and is the perfect complement to a little spicy kick. This dish is filling, flavorful, and best of all quick cooking.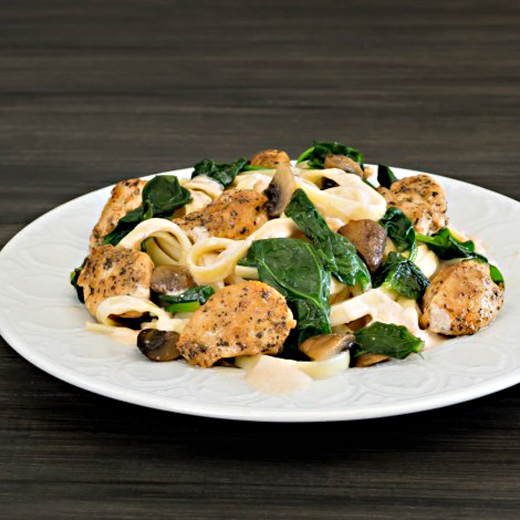 Ingredients
1 lb. chicken breast, trimmed and cut into 1″ pieces
2 tsp. Cajun seasoning
¼ tsp. cayenne
½ tsp. dried basil
½ tsp. dried oregano
½ tsp. paprika
¼ tsp. kosher salt
¼ tsp. pepper
½ tsp. garlic powder
½ tsp. onion powder
½ lb. baby Bella mushrooms, quartered
2 garlic cloves, pressed
1 Tbsp. tomato paste
1 cup chicken broth
2 cups fresh baby spinach
½ cup 2% plain Greek yogurt
Olive oil
Directions
Prepare pasta according to package directions.
In a small bowl combine Cajun seasoning through onion powder. Reserve 2 tsp. of seasoning for sauce.
Add tablespoon of olive oil to the large skillet over medium heat, add the mushrooms and sauté until browned. Remove from the pan and keep warm.
In a large bag combine chicken breast pieces with the seasoning mix.
Heat 1 tablespoon of olive oil in a large skillet over medium heat. Add chicken and sauce until cooked through, about 5-7 minutes. Remove from pan and keep warm with mushrooms.
Add the garlic and tomato paste; sauté until just until fragrant. Add the chicken broth to deglaze the pan. Add the reserved seasoning to the pan.
Return the chicken and mushrooms to the pan; bring to a low boil.
Top with spinach, reduce heat to medium low and cover. Simmer for 4-5 minutes or until spinach has wilted.
Remove pan from heat. Push chicken mixture to one side and stir in Greek yogurt to the broth. Stir to combine with chicken.
Serve over prepared noodles.