Crack Peanut Butter Cup Brownies
These are amazing especially if you like peanut butter.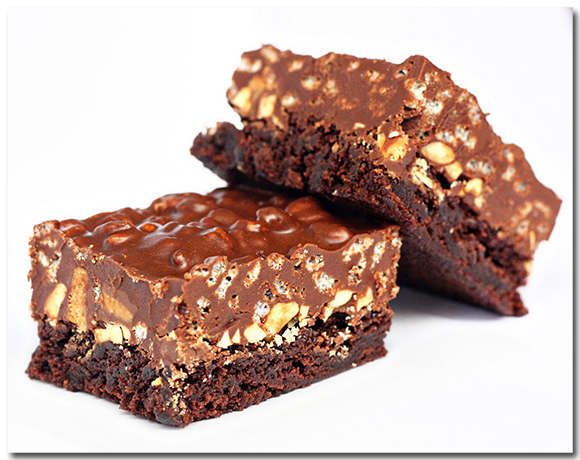 Recipe type:
Dessert squares
Ingredients
1 box brownie mix (not family sized), prepared according to package directions in a 9x9 pan
½ cup chopped salted or honey roasted peanuts
12 peanut butter cups, chopped
2 cups semi-sweet chocolate chips
1 Tbsp. butter
1 heaping cup creamy peanut butter (or 1¼ cups)
1¾ cups crispy rice cereal
1 tsp vanilla extract
¼ tsp salt
Directions
Bake brownies according to package directions in a 9x9 pan lined with foil.
During last 5 minutes of baking, remove from oven and sprinkle chopped peanut butter cups and chopped peanuts on top. Return to oven for remaining 5 minutes to melt the chocolate.
As soon as you pull them out of the oven, spread the melty peanut butter cups/peanuts to smooth over the top. Let brownies cool.
Next in a microwave safe bowl combine chocolate chips, peanut butter, and butter. Heat in microwave for 1 minute, stirring when done. If needed, continue heating in 20-second increments until chocolate chips melt.
Stir in cereal, vanilla and salt until evenly combined.
Pour over brownies and smooth. Chill chocolate until set about 2 hours.
Cut into squares to serve
Notes
Store in airtight container. You can store these at room temperature or in the refrigerator.