Corned Beef & Cabbage Soup
This is a tasty and wonderful one pot meal. A classic Irish dish to enjoy in a new way.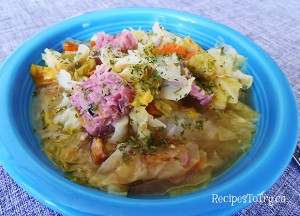 Ingredients
2 tsp olive oil
1 leek, chopped (whites and light green only)
2 cloves garlic
1 medium carrots, chopped
1 yellow pepper, chopped
1 lb lean corned beef brisket (yields 9 Oz cooked)
6 cups of water
2 chicken bouillon cubes or 2 tablespoons of dry chicken broth mix.
2 bay leaves
¼ cup chopped parsley, plus more for garnish
1 small head cabbage, cored and chopped
Fresh pepper to taste
2 tablespoons fish sauce
Directions
In a large pot or Dutch oven, heat oil over medium low heat. Add leeks and sauté until soft, about 4-5 minutes; add garlic, carrots and yellow pepper and sauté about 2-3 minutes.
Add corned beef, and seasoning pack if it came with the corned beef, bay leaves, parsley and water and chicken bouillon or dry broth mix; cover and bring to a boil. Simmer covered on low heat for 3 hours, until the meat becomes tender.
Remove the corned beef, set it on a cutting board and shred with a fork. Return it to the pot then add the cabbage, taste for salt and pepper and adjust as needed. Cook until the cabbage are tender, about 45 more minutes. Take off heat and add the fish sauce*.
Notes
The fish sauce will not make it taste fishy, it will however add depth to the broth making it even tastier.
Nutrition Information
Serving size:
600 grams
Calories:
338
Fat:
22.4
Saturated fat:
8.5
Trans fat:
0
Carbohydrates:
16.1
Sugar:
6.4
Sodium:
906
Fiber:
4.9
Protein:
20.2
Cholesterol:
72