Cider-Golden Raisin Sauce
A good sauce for pork and chicken dishes. The raisins cook up plump and soft, and the Cider balances with the fruit's sweetness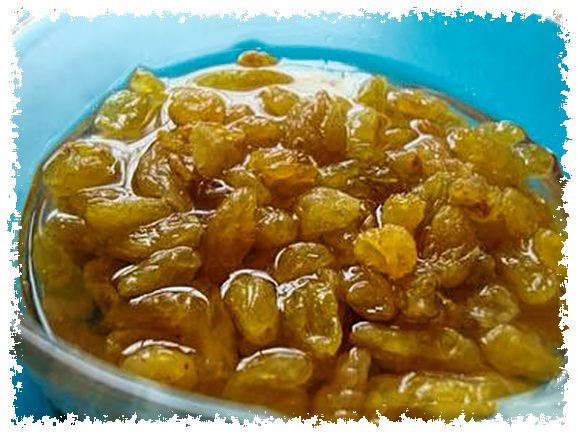 Ingredients
2 cups apple cider
1 cup golden raisins
½ cup plus 2 teaspoons cider vinegar
4 sprigs fresh thyme, plus 2 teaspoons minced
2 shallots, minced
¼ cup heavy cream
16 tablespoons unsalted butter, cut into ½-inch pieces and chilled (2 stickers of butter)
1 tablespoon Calvados
1 teaspoon salt
½ teaspoon pepper
Directions
Combine cider and raisins in bowl and microwave until steaming, 1 to 2 minutes. Cover and let stand until plump, about 10 minutes. Strain cider through a fine-mesh strainer into a medium saucepan, reserving raisins.
Add ½ cup vinegar, thyme sprigs, and shallots to cider and bring to boil over high heat. Reduce heat to medium-high and reduce mixture until it measures ¾ cup, 14 to 16 minutes. Add cream and reduce again to ¾ cup, about 5 minutes. Discard thyme sprigs. Off heat, whisk in butter, few pieces at a time, until fully incorporated. Stir in raisins, remaining 2 teaspoons vinegar, minced thyme, Calvados, salt, and pepper. Cover pan and hold, off heat, until serving. Alternatively, let the sauce cool completely and refrigerate for up to 2 days. Reheat in a small saucepan over medium-low heat, frequently stirring, until warm.
Notes
Beurre Rouge Sauce, which translates as "red butter, basically it requires just two components: butter and an acidic liquid. (Red wine and red vinegar for beurre rouge and white for beurre blanc are traditional.)
• The sauce can be prepared in advance of use of up to two days.

• The preparation is equally simple: Just whisk cold butter into the reduced acidic liquid. Butter sauces, like any mixture of fat and water, don't always stay emulsified. That's because the butter is temperature sensitive: If the sauce gets too hot (above 135), the butter will "break" and the butterfat will leak out. If it gets too cold (below 85), the butterfat solidifies and forms crystals that clump together and separate when the sauce is reheated.
• The key to fool proofing a butter sauce is stabilizing the butterfat so that it doesn't separate. We do this by whisking in the butter a little bit at a time, which keeps the temperature of the sauce relatively stable. Even more important, we also add cream. The cream contains a relatively high proportion of casein proteins that surround and stabilize the butterfat droplets so that they don't separate from the emulsion. The cream is such an effective stabilizer that our sauce can be made ahead, chilled, and gently reheated before serving.