Christmas Salad with oranges & Pomegranate
A fantastic festive salad for the holidays or for that matter; anytime. Tossed with a tangy citrus dressing that will have your guests asking for the recipe.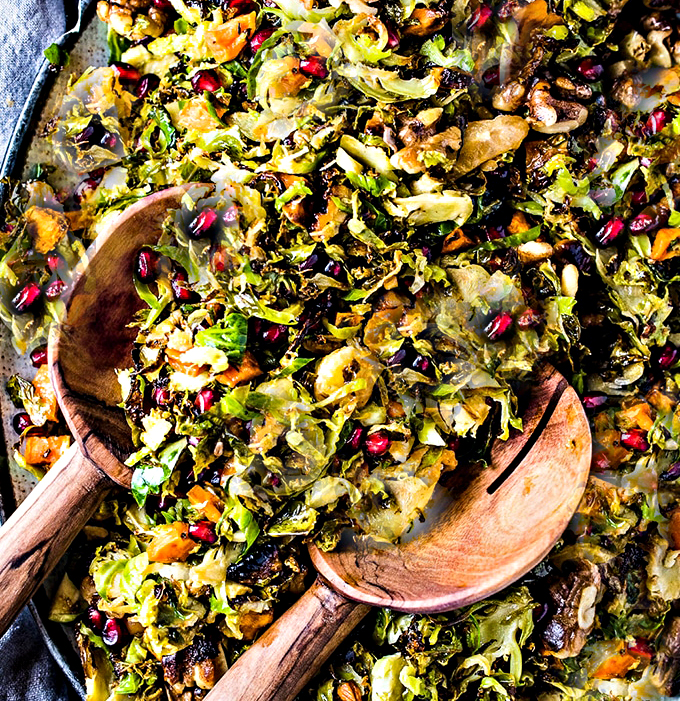 Ingredients
For the salad
3 Cups Brussels sprouts, finely shredded
3 Cups Kale, finely shredded
¾ Cup Pomegranate*
¾ cup mandarin orange slices (if canned drained)
½ Cup Chopped Almonds, (pecans or walnuts) toasted*
3 Slices Cooked Bacon, crumbled
¼ Cup Parmesan Cheese, finely grated
For the dressing
1 Orange, zested and juiced
1 Lemon, zested and juiced
1 Teaspoon Dijon Mustard
2 Teaspoon Honey
1 Clove Garlic, smashed
Kosher Salt and Freshly Ground Black Pepper
¼ Cup Extra Virgin Olive Oil
Directions
In a large bowl combine the Brussels sprouts, kale, pomegranate seeds, mandarin orange slices, nuts, bacon, and cheese; toss well.
In a mini food processor or blender combine the orange and lemon juice, zest, mustard, honey, garlic clove, salt, and pepper and oil pulse to combine. Toss the salad with the dressing and top with more cheese if desired.
Notes
*Promegrante seeds can be found in a container in some grocery stores. If you can't find them, just buy 1 pomegranates and seed them yourself. Here's how; cut the pomegranate in half and then place it into a large bowl of water. Gently hold the pomegranate (cut side down) and push the top of the fruit to release the membranes. Use your fingers to push the seeds from the membranes. The seeds will fall to the bottom and the little pieces of membrane will float to the top – you can skim them off and then drain the water and you'll have your seeds!
*To toast the nuts: Heat a small sauté pan over medium-low heat and add the chopped nuts. Toast, stirring occasionally for 5 minutes – keep a close eye on them, they will burn quickly. They will be lightly golden brown and fragrant when they are done.
Can be made in advance: just keep the dressing and the salad separate until you're ready to serve