Chocolate Mousse Cheese Cake
Stand back and listen to the raves. A Great Make Ahead Dessert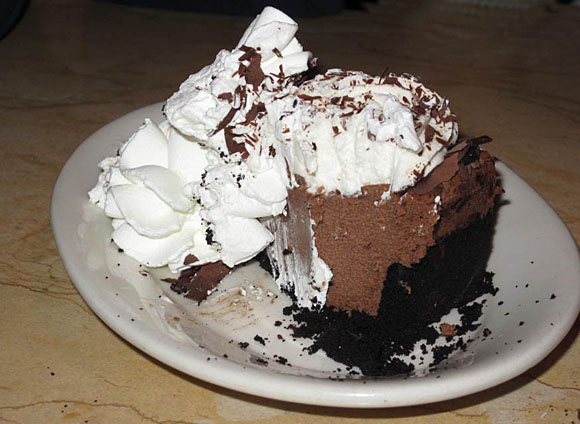 Ingredients
1 cup of chocolate wafer crumbs (about 1 Box)
chocolate wafers for outside ( about ½ box) plus the rest for crumbs
¼ cup melted butter
250 gm (8 oz.) cream cheese
2 beaten egg yolks
¼ cup sugar
1 cup chocolate chips melted
2 egg whites
¼ sugar
1 pt. (500 ml) whipping cream or 2 cup whipped topping
Directions
Crumb crust
Grease well a 9" springform pan.
Melt Butter, mix with crumbs and spread over bottom of pan.
Place wafers standing up around outside edge, pressing them into the crumb base so they will hold
Bake at 350°F for 10 minutes.
Cool.
Filling
Blend cheese, egg yolks, ¼ cup sugar and melted chocolate chips.
Beat egg whites until foamy and add ¼ cup sugar. Beat until glossy. Fold into cream cheese mixture.
Beat cream until stiff. If using cream sweeten with a little sugar. Fold half of whipped cream into chocolate mixture.
Pour half of mixture into prepared pan. Crush rest of wafers into crumbs and sprinkle over top and then add rest of cheese mixture.
Cover with balance of whipped cream.
Cover with foil and freeze.
Notes
Defrost 1 ½ to 2 hours before serving. Decorate with a few chocolate curls if you wish. Turn out of pan onto a plate.