Chicken Thighs/Drumsticks with Ginger & Thyme
Delicious and easy! A Company friendly dish Great for the Cuisinart Convection Steam Oven and regular oven.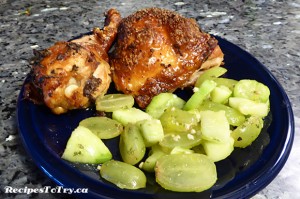 Ingredients
10 garlic cloves, coarsely chopped
4 serrano chilies, with seeds, thinly sliced
1 3½" piece ginger, peeled, finely grated
1 cup olive oil
½ cup reduced-sodium soy sauce
¼ cup apple cider vinegar
¼ cup sugar
3 tablespoons fish sauce (such as nam pla or nuoc nam)
1 tablespoon kosher salt
2 lemons, sliced, plus wedges for serving
6 sprigs thyme
8 skin-on, bone-in chicken thighs/drumsticks (about 3½ lb.)
Directions
Whisk garlic, chiles, ginger, oil, soy sauce, vinegar, sugar, fish sauce, and salt in a medium bowl until sugar and salt dissolve. Add lemon slices and thyme. Place marinade and chicken in a large resealable plastic bag. Turn to coat, and chill at least 12 hours.
Heat oven to 450°. Remove chicken from marinade, shaking off excess, and place, skin side up, on a rimmed baking sheet. Roast until cooked through and an instant-read thermometer inserted in the thickest part of the thigh registers 165°, 25–30 minutes. Serve chicken with lemon wedges for squeezing over and a side of Cucumber Grape Salad.
Notes
CUISINART CONVECTION STEAM OVEN directions
Place chicken skin side up on the baking tray lined with foil for easier cleanup. Place in oven on middle rack. Set to bake steam at for 30 minutes or thighs reach an internal temperature of 180° F

DO AHEAD: Chicken can be marinated 1 day ahead. Keep chilled.