Chicken Thighs with Root Vegetable Hash
(See Note at bottom for Cuisinart Convection Steam oven directions.) Winter is the peak season for rutabagas, turnips, and parsnips. Their strong flavors mellow with cooking. The bacon and fresh herbs adding an unbelievable yumminess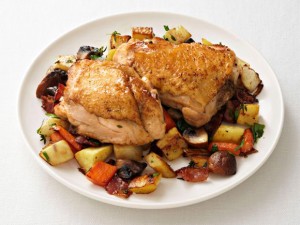 Source:
adapted from the recipe at foodnetwork.com Photograph by Justin Walker
Ingredients
1 tablespoon vegetable oil
4 to 6 skin-on, bone-in chicken thighs
Kosher salt and freshly ground pepper
3 slices thick-cut bacon, chopped
2 ounces cremini mushrooms, quartered
2 carrots, peeled and cut into 1-inch pieces
1 parsnips, peeled and cut into 1-inch pieces
1 turnip, peeled and cut into 1-inch pieces
½ red onion, chopped
1 tablespoons chopped fresh parsley
1 teaspoons fresh thyme
1 teaspoon Apple Syrup with Maple & Cinnamon or just Maple Syrup
Directions
Preheat the oven to 375 degrees F. Heat 1 tablespoons vegetable oil in a large ovenproof skillet over medium-high heat. Season the chicken with salt and a few grinds of pepper. Add to the skillet skin-side down and cook until golden, about 5 minutes. Pour off most of the fat from the skillet; transfer the skillet to the oven (do not flip the chicken). Roast 5 minutes, then flip the chicken and roast until cooked through, about 15 more minutes.
Meanwhile, cook the bacon in the l in a large pot or pan over medium-high heat until crisp, about 5 minutes. Remove with a slotted spoon and drain on paper towels, reserving the drippings in the pot.
Add the mushrooms, carrots, parsnips, turnips, red onion, 1 tablespoons water, ½ teaspoon salt, Apple or Maple Syrup and a few grinds of pepper to the pot. Cook, stirring occasionally, until the vegetables are tender, about 12 minutes. Return the bacon to the pot along with the parsley and thyme. Serve the chicken with the vegetables.
Notes
For Cuisinart Convection Steam oven directions:

After browning the chicken in the pan place the pieces skin up on top of the boiling/steaming rack fit into the baking pan. Put in the oven with the rack in the lower position. Set to bake steam at 450° F for 15 minutes or thighs reach an internal temperature of 180° F