Chicken Tagine with Raisins and Pistachios – Low Carb and Gluten-Free
A hearty North African dish, this chicken tagine is flavoured with raisins and pistachios.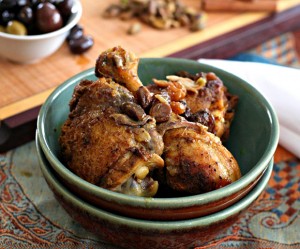 Ingredients
6 chicken legs or 6 thighs and 6 drumsticks
2 tbsp. coconut oil
½ medium onion, chopped
2 cloves garlic, minced
2 tsp minced ginger
1 tbsp. ground cumin
1 tsp ground cinnamon
¾ tsp ground coriander
½ tsp turmeric
½ tsp salt
¼ tsp black pepper
1 cup chicken broth
¼ cup pistachios
2 tbsp. golden raisins (use ¼ cup if not watching carbs)
2 tbsp. dark raisins (use ¼ cup if not watching carbs)
Directions
Heat coconut oil in a large sauté pan or Dutch oven over medium high heat.
Pat chicken legs dry and sprinkle with salt and pepper. When pan is hot, add chicken, skin-side down and cook without moving 5 minutes, until skin is crispy brown. Turn chicken over and cook another 4 minutes.
Transfer chicken to a platter and tent with foil. Add onion, garlic and ginger to pan and cook until onion is translucent, scraping up browned bits, about 5 minutes.
Add cumin, cinnamon, coriander, turmeric, salt and pepper and cook until fragrant, about 30 seconds. Add broth and stir to combine.
Add chicken back into pan and sprinkle with raisins and pistachios. Bring to a boil and then reduce heat and simmer for 15 minutes.
Notes

What is a Tagine: A tagine is a unique type of ceramic or clay cookware that's popular in North Africa. The bottom is a wide, circular shallow dish used for both cooking and serving, while the top of the tagine is distinctively shaped into a rounded dome or cone.
The word "tagine" also refers to the succulent dish which is slow-cooked inside the cooking vessel. Typically, a tagine is a rich stew of meat, chicken, or fish, and most often includes vegetables or fruit. Vegetables can also be cooked alone.
Don't have a Tagine a Dutch oven or clay cooker works just as well.
Nutrition Information
Serving size:
1 chicken leg
Calories:
351
Fat:
23 g
Saturated fat:
4.3 g
Trans fat:
0
Carbohydrates:
17.7 g
Sugar:
4.6 g
Sodium:
604 mg
Fiber:
1.4 g
Protein:
25.2
Cholesterol:
79