Cheesy Cornbread Muffins
These are moist, flavorful and delicious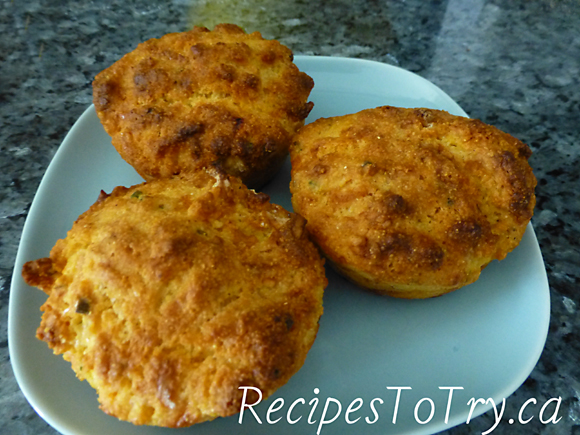 Ingredients
1 cup (250 ml) all-purpose flour
1 cup (250 ml) cornmeal
1 cup (250 ml) shredded old Cheddar cheese plus ½ cup to sprinkle on top
2 green onions, thinly sliced
1 tbsp. (15 ml) granulated sugar
2 tsp. (10 ml) baking powder
1 cup (250 ml) milk
1 egg
3 tbsp. (45 ml) butter, melted and cooled
¼ tsp. (1 ml) salt
1 pinch pepper
Directions
Heat oven to 375ºF (190ºC)
In bowl, whisk together flour, cornmeal, cheese, green onions, sugar and baking powder.
In another bowl whisk together milk, egg, butter, salt and pepper;
Stir the wet ingredients into cornmeal mixture. Be careful not to over mix
Spoon into greased muffin tin for 6 large muffins
Bake in 375ºF (190ºC) oven until golden and toothpick comes out clean. , 35 to 40 minutes.
Notes
You can substitute 2 tsp. Of dried chives instead of the green onions. To save some calories use skim milk, splendra for the sugar and light cheese.