Cajun Shrimp With Dirty Rice
You will love the melody of aromatics that flavour this dish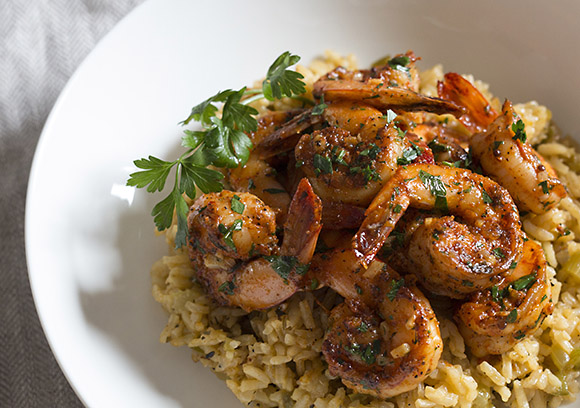 Ingredients
For the rice:
2 ½ cups chicken broth
1 cup long grain rice
½ cup onion, minced
¼ cup celery, minced
¼ cup green bell pepper, minced
1 garlic clove, minced
3 tbsp butter
¼ tsp paprika
¼ tsp cayenne pepper
½ tsp dried oregano
½ tsp dried basil
Salt & pepper to taste
For the shrimp
1 lb large shrimp, peeled and deveined
2 tsp Cajun seasoning
1 tbsp olive oil
2 tsp garlic, minced
2 tbsp butter
¼ cup white wine
1 tbsp freshly squeezed lemon juice
Lemon zest
Salt & pepper to taste
Finely chopped parsley
Directions
In a pot over medium heat, add butter, onion, celery, bell pepper, and garlic. Saute the vegetables for about 5 minutes, and then add the seasonings. Stir in the rice and toss well to coat.
Once the grains are lightly golden, (At this point if using a rice cooker add the veggies & rice to the rice cooker and stir in 2 cups of chicken broth) or stir in the 2 ½ cups chicken broth to the pan. Cover and let simmer and cook for about 15-20 minutes. Once cooked and all the liquid has absorbed, fluff with a fork.
Rub the shrimp with Cajun seasoning, salt, and pepper. Heat olive oil in a pan on medium heat. Add shrimp and cook for 2-3 minutes, just until seared but not fully cooked. Remove from pan and set aside.
Add garlic to the pan, sauté for a minute, and then stir in the butter. Pour the white wine and lemon juice and allow to slightly thicken.
Turn off the heat and toss the shrimp and parsley in the sauce. Serve over the rice.
Notes
If using a rice cooker. Transfer rice and veggies mixture to rice cooker and reduce chicken broth to 2 cups.
Nutrition Information
Serving size:
1
Calories:
383
Video on how to make this dish