Cabbage, Sausage & Potato Soup ~ (Mini Instant Pot)
This Cabbage, Sausage and Potato Soup recipe is a hearty and comforting, soup that has the best of savoury flavours. Using the Instant Pot, you can have this on the table in less than 30 minutes. Bonus it is just as tasty the next day.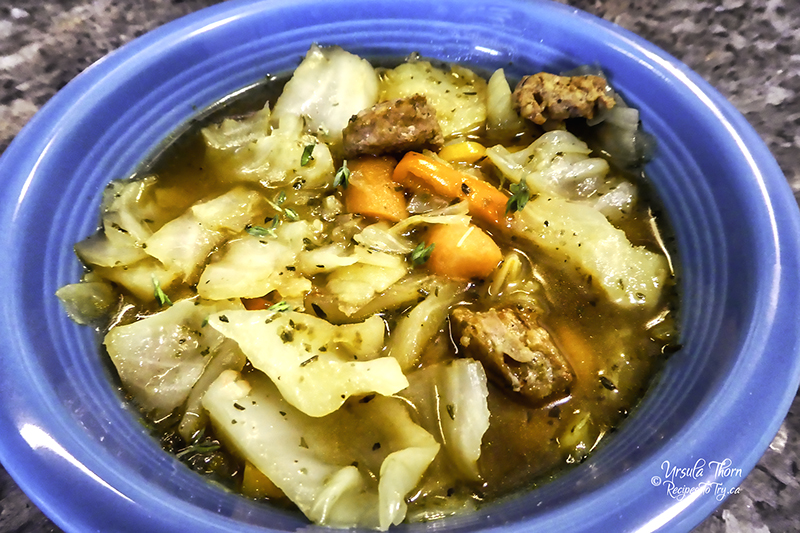 Prep time:
Cook time:
Total time:
Ingredients
2 hot Italian sausages*, sliced into bite-sized pieces
1 tablespoons extra-virgin olive oil
½ medium onion, chopped
1 medium carrots, peeled and cut into ½ "pieces
½ small green cabbage, chopped into bite-sized pieces
2 cloves garlic, minced
5 cups chicken or vegetable stock
5 -6 baby potatoes, cut in half
½ sweet green or red pepper
2 teaspoons dried Italian seasoning,
½ teaspoon celery salt
1 bay leaf
1 tablespoon fish sauce **
Kosher salt and freshly-cracked black pepper
Directions
Set Instant Pot to the sauté setting when the display shows hot add the oil. When the oil begins to shimmer; add the sausage to the Instant Pot.
Cook for two to 3 minutes then add onion.
Continue to cook a few more minutes until onion is translucent and just starting to brown in a few places.
Add the garlic cook for one more minute.
Pour in chicken broth and stir to loosen any browned bits.
Add all the seasoning except the fish sauce and salt
Add cut up potatoes.
Turn the Instant Pot off.
Close lid making sure vent is closed.
Cook on High Pressure for 6 minutes.
Do a Quick Release of Pressure, open lid, add chopped cabbage, carrots, sweet Pepper and stir well.
Close lid, again making sure vent is closed.
Cook on high 5 more minutes.
Do a Quick Release of Pressure, open lid, add the fish sauce** and season to taste with freshly ground black pepper. As Fish sauce is quite salty, you may not need to add additional salt.
Notes
** Fish Sauce although can smell pungent when combined with other ingredients such as herbs' it mellows out and adds a rich and savoury umami–richness to a dish.